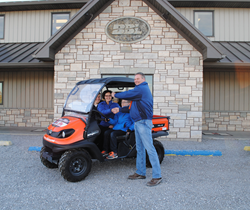 This was a great promotion and we're happy to give away such a quality product!
Perryville, MO (PRWEB) November 18, 2014
BBL Construction, http://www.bblusa.net along with their parent company, Energy Panel Structures in Graettinger, IA, held a promotional sweepstakes from May 2014 through October 2014 to give away a Kubota RTV side-by-side. The lucky winner registered at the DuQuoin State Fair and hailed from Granite City, IL. Kim Gindler was delighted to receive the news that she won. She and her husband had just purchased a farm and had been browsing for a side-by-side. Kim, her husband and son, traveled to BBL to pick up the Kubota recently. They were elated with their prize. Scott Bauer, BBL Construction General Manager, was on location to hand over the keys to Kim. He stated, "This was a great promotion and we're happy to give away such a quality product! I wish the Gindler's lots of fun on this wonderful utility vehicle."
This promotion was an effort to reward hard-working people who live and work in areas where a Kubota would be useful. Folks from Iowa, Missouri, Illinois, Kansas and Nebraska were eligible to register. The Kubota was on display at the Missouri State Fair in Sedalia, MO and the DuQuoin State Fair in DuQuoin, IL as well as local fairs, parades and home shows. Registration was also available at the BBL and EPS facilities. No purchase was necessary to win and the winner was randomly drawn on November 3rd, 2014.
BBL Construction is the area's leader in building quality custom homes, commercial and agricultural buildings, and premium trusses. They provide complete building packages for a wide range of construction including garages, commercial office complexes, municipal, equestrian, agricultural, dairy facilities, pole barns, residential and many other building types. BBL headquarters and manufacturing facility are located in Perryville, Missouri.
In 2010, BBL became part of Energy Panel Structures http://www.epsbuildings.com, which has enabled them to grow their product lines, and enhance their technology and service areas. For more information on BBL Construction, please contact them at (800) 455-6675 or visit them on the web at http://www.bblusa.net.