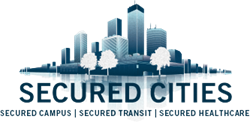 Baltimore, MD (PRWEB) November 19, 2014
Secured Cities and Security Technology Executive (STE) magazine capped off its Baltimore event November 6, 2014 by recognizing some of the most unique and collaborative security projects in the world with the Security Innovation Awards (SIA) luncheon, held at the Baltimore Convention Center.
Six top security projects were honored at the 8th annual luncheon, reflecting the public/private partnership sectors that define the Secured Cities conference and the audience of STE magazine. Noting that this year's submissions were among the most competitive, judges selected winners from the municipal, government, corporate, campus, healthcare and transit sectors. In addition to the six individual vertical market awards, the judges also bestowed accolades to the best overall project with the first-ever Grand Platinum award, which went to the Qatar Petroleum District Project located in Doha, Qatar, submitted by Aon Global Risk Consulting (AGRC).
The Security Innovation Awards are open to all vendors, integrators, consultants and end-users. This coveted honor recognizes the most impressive collaborative project highlighting the lead vendors, integrator (or consultant/engineer) and the end-user client.
"We are thrilled to see the quality submissions we received this year and our judges remarked that this may have been the best crop of projects they have ever judged," said Steve Lasky, editorial director for the Cygnus Security Media Group and conference director for Secured Cities. "Every project submitted featured a unique challenge that was not only met by cutting-edge technology solutions, but with meticulous project planning and collaborative efforts from all involved. The quality and intricacy of the integrated security solutions evolve each year and we are excited to showcase these projects, as well as the security professionals that bring them to fruition."
Qatar Petroleum District Project's 2014 Grand Platinum winner was also awarded the top corporate project. This massive corporate complex located in the West Bay of Doha, is one of the largest corporate campuses in the world. Covering more than six million square feet, the complex includes a five-star hotel, nine prominent high-rise towers comprised of 16 to 52 stories each, a parking garage, underground parking for 6,000 cars, a central utility plant, an auditorium, and three auto-courts, serving three towers each. The security systems design completed by AGRC Security was equally immense, consisting of 1,644 fixed and 62 operable (pan-tilt-zoom) IP-enabled Pelco cameras that were strategically located to support situational awareness. Fiber optic cabling was used for exterior cameras to preclude the introduction of power surges, ground loop, and sneaker currents onto the shared computer network. Excluding doors that are equipped with HID Global access control readers, the site has 2,836 standard, high-security, and roll-up presence/position sensors and 500-plus duress buttons. The entire access system centralizes onto the Honeywell Pro-Watch Security Management System, which is distributed via 304 PW6 Honeywell controllers.
JBK Controls, the largest systems integrator in Doha, worked closely with AGRC Security and KEO International Consultants during the project. Secured Cities was honored to have JBK Controls Managing Director Kamaludeen Mohammed Ghazali and Director for IT/Security Rajan Jagdish attend the luncheon to accept their awards. Sean Ahrens, CPP, BSCP, who is the Practice Leader for Security Consulting and Design at AGRC and Jordan Ferrantelli, Associate Consultant for AGRC, were also on hand to accept awards for the QP project. "Given all of the considerations that had to be taken into account for this deployment – from vehicle and pedestrian access to lighting and video surveillance – this is one of the most ambitious and creative projects ever submitted for the STE Security Innovation Awards. The fact that Aon and their multitude of technology partners were able to come together to provide a comprehensive security solution for this large-scale corporate campus is extremely impressive," remarked one of the SIA judges of the QP project.
The top five sector project winners included:

Campus Project: The University of Kentucky – The University of Kentucky was recognized for its strong collaboration among its campus police department, physical plant division and the individual business units residing in those campus facilities. All parties needed to address the issue of disparate systems, with the goal of creating a fully integrated solution that would provide a standardized solution across campus. UK contracted with the consulting firm Biagi, Chance, Cummins, London, Titzer, Inc. (BCCLT) to assess the disparate Security Management Systems (SMS) and Video Management Systems (VMS) and the existing UK information technology infrastructure to develop a request for proposal (RFP) that would best articulate the vision for a centralized UK security system. Upon review of the submitted proposals, UK selected Dallmann Systems, Inc. as the integrator of Next Level Security Systems (NLSS) for both the SMS and VMS. This presented a unique, license-free, appliance-based solution that essentially allowed UKPD to provide each college or business unit the opportunity to invest in, expand, and manage their own security system that would report centrally to and be monitored by Police Headquarters. Both BCCLT CEO Tom Sorrell and Dallmann Systems President Tom Dallmann were on hand to accept awards. Other awards were presented to UK Project Manager Rich Riedl, and UKPD Chief Joe Monroe and Major Nathan Brown.
Healthcare Project: Navicent Healthcare -- Working with its systems integration team from Tech Systems, Chief of Police Quentin Jude of Navicent Health, located in Macon, Ga., faced the daunting task of a total systems retrofit when it was learned that the healthcare giant's access control system would no longer be supported by the manufacturer as it reached its end-of-life cycle. The Medical Center, Navicent Health, is a 637-bed; full-service, acute care hospital that now serves an estimated population of 750,000 residents in central and South Georgia and is the second largest hospital in the state. The medical facility serves a primary service area of 30 counties and treats patients from nearly 80 percent of Georgia's 159 counties. When completed, the project comprised approximately 500 doors, 500 cameras and a host of other integrations. Chief Jude said the success of this highly integrated retrofit was due to to strong relationships with their service provider and manufacturers, which was led by S2 Security Corporation.
Municipal Project: The City of Bridgeport, CT – The City of Bridgeport, Conn., wanted to reopen its historic Pleasure Beach 20 years after vandals burned down the bridge connecting it to town. Since then, security risks have increased as the beach is near many sensitive areas. Because of its vantage point and close proximity to many high-target security sites, the Department of Homeland Security took a special interest in the effort to secure the port. Sikorsky Memorial Airport is just to the east of the beach, large fuel oil storage facilities with a tanker depot are located to the north, and a power plant sits just to the west of the harbor itself. A ferry terminal and a rail station are also in close proximity. Additionally, Pleasure Beach is a peninsula that connects directly to Stratford, Conn. People can walk to the beach from Stratford, and this makes it vulnerable to vandalism. There is also wildlife present, including foxes and some deer, as well as tiny piping plover and an osprey nest that the City wished to protect from disturbance. With so many sensitive sites around it, Pleasure Beach is a critical location in need of serious security coverage. An effective video surveillance system needed to be put in place. Working with systems integration leader A+ Technology Solutions, out of Bay Shore, N.Y., a plan was forged to safeguard Pleasure Beach, as well as other key facilities within the city limits, including all city schools. The city established a solar and wireless IP surveillance network throughout the beach in order to preserve the sensitive local environment from trenching for a fiber infrastructure. The city achieved total security on the beach with state-of-the-art technology, including:
*Thermal imaging cameras, Wide Dynamic Range-Dynamic Capture, wireless video transmission, and solar-powered camera arrays. The beach project was such a success that the city chose to install an IP surveillance network in all of its 40 public schools.
*High resolution cameras were paired with IP-based access control and visitor management software. A Security Operations Center operating on a PSIM solution also provides smart, immediate, and user-friendly interaction with the surveillance system. This project was submitted by video solution providers Axis Communications and IPVideo Corporation, and included mesh network provider Firetide and access control vendor Isonas.
Transit Project: Massachusetts Bay Transportation Authority -- When a Department of Homeland Security grant was secured to improve the security on its fleet, the MBTA appropriated the funds to a first-phase upgrade for video surveillance technology onboard 225 of it more than 1,100 buses, which serve 180 routes throughout the city. The existing video surveillance systems onboard buses were much older, and offered limited video quality. With consultancy services from Jacobs Engineering Group, an international engineering, architecture, and construction firm, a detailed request for proposal was submitted for public tender that stipulated very specific requirements and the need for a working proof of concept. After careful consideration, MBTA chose the Genetec Omnicast video surveillance system proposed by Minuteman Security Technologies, the project's systems integration partner. Each of the 225 buses is outfitted with two 360-degree cameras, one interior fixed high-definition camera, and three external 720p high-definition cameras -- all from Panasonic. Another key element of the MBTA system is the VidSys PSIM software, which was also being used by the Massachusetts Department of Transportation — making interagency collaboration and sharing of real-time data across different transportation agencies a real possibility in the future. Because the PSIM system works with any type of physical security device or system, it provides the MBTA with the flexibility to select whatever technology they want, and frees the agency from being married to proprietary solutions.
Awards were presented to MBTA Senior Director of Security and Emergency Management Randy Clarke, Projects Administrator Adam
Peters, Deputy Chief for MBTA's Investigative Division Kenneth Sprague and MBTA Video Analyst Jonathan Wing. Also honored were Joe Lynch, CEO of Minuteman Security Technologies and Christopher Costello, the Systems and Technology Manager at Jacobs Engineering.
Government Project: Federal Protective Service (FPS) – This federal agency is charged with protecting and delivering integrated law enforcement and protection for more than 9,600 facilities nationwide. FPS is divided into 11 regions, with regional headquarters that are located in metropolitan areas across the country. There are approximately 200 field offices and 11 "Mega Centers" that provide responses to over 534,000 calls for service for law enforcement and public safety annually. FPS, which recognized system deficiencies and challenges, understood that the best strategy for transmitting video to remote internet connected data centers is in the cloud. This solution will increase availability and access to once localized video, achieving operational effectiveness. The integrated solution known as Credentialed High Assurance Video Encryption (CHAVE) is a video encryption model technology that can be introduced into pre- and post-manufactured products. Bosch Security Systems' high-end IP and HD cameras, as well as its extensive portfolio in Intrusion Detection Systems (IDS), could be combined with SecureXperts, Inc.'s trusted hardware technology using digital certificate-based authentication, signing, and encryption, to create an integrated solution for a secured communications framework that is resilient against attack or breach by hackers. The integrated solution, which is in operation at the Federal Protective Service Physical Security Training Academy, meets the high level goals and objectives solution to provide for secure interoperability for the first responder community. Honored at the luncheon were Darnell Washington, CEO/President of SecureXperts, Desiree Carter, VP/COO of SecureXperts, Lloyd Uliana, Business Development Engineer with Bosch, and Floyd Jennings, the Program Manager with FPS.
For more information about the Security Innovation Awards and the Secured Cities 2015, please go to http://www.securedcities.com.