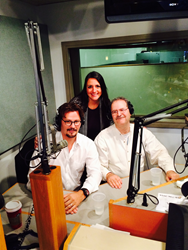 The procedure is nearly pain-free and patients walk at all times during healing
New York, New York (PRWEB) November 19, 2014
Renowned New York podiatrist, Dr. Jeffrey Adler and inventor of HyProCure® treatment, Dr. Michael Graham, will be interviewed together November 22 at 8 p.m. EST by well-known radio show host Laura Smith on NewsTalkRadio WABC 77. They will discuss how the HyProCure® orthopedic medical device has revolutionized how doctors treat foot pain caused by misalignment.
The HyProCure® procedure has changed the way doctors treat foot pain by instantly realigning and stabilizing the hind-foot and ankle. This allows for normal joint range of motion, weight distribution and balance of the body. It also significantly reduces negative effects on the body resulting from misaligned feet, such as pain in the knees, hips, back and neck.
The HyProCure® treatment is an outpatient procedure that uses a minimally invasive technique, which means it's done by making a very small incision. During the procedure a titanium stent is placed into the naturally occurring space between the ankle and heel bones. The procedure is nearly pain-free and patients walk at all times during healing.
"Here at Adler Footcare we have not seen any cases where patients did not experience success," Dr. Adler said. "We are careful to follow all the correct protocols and consult directly with the inventor of the procedure to ensure the best results. We have also been recognized as a HyProCure® Center of Excellence."
Tune in to New York NewsTalkRadio WABC 77 on November 22 at 8 p.m. EST to hear the interview with Dr. Adler and Dr. Graham about the HyProCure® treatment that has changed the way doctors treat foot pain.
For more information, contact Adler Footcare at (212) 704-4310 or visit http://www.mynycpodiatrist.com.
About Dr. Jeffrey L. Adler
Dr. Jeffrey L. Adler, Medical/Surgical Director and owner of Adler Footcare of Greater New York has been practicing podiatric medicine since 1979 and has performed thousands of foot and ankle surgeries. Dr. Adler is board certified in Podiatric Surgery and Primary Podiatric Medicine by the American Board of Multiple Specialties in Podiatry. Dr. Adler is also a Professor of Minimally Invasive Foot Surgery for the Academy of Ambulatory Foot and Ankle Surgeons. As one of only several in the country who perform minimally invasive podiatric surgery, Dr. Adler's patients enjoy significantly reduced recovery times.