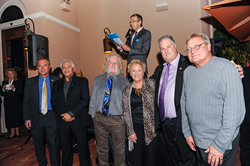 Alexandria, VA (PRWEB) November 17, 2014
The Association of Pool & Spa Professionals (APSP) welcomed its third cadre to its Fellows Program during a reception at the 2014 Pool|Spa|Patio Expo in Orlando, FL.
The newest Fellows include: Larry Biscornet CBP, CSP, LBI Pools & Spas; Robert Blanda, CBP, CSP, Mill Bergen Pool Center; Thom Blumenkamp, CBP, Texas Pools; Connie Sue Centrella, Horner Xpress; Bernice Crenshaw; Randy Dukes, Speck Pumps-Pool Products, Inc.; Vance Gillette, Zodiac Pool Systems, Inc.; Dave Knoop (Posthumous); Chris Marcano, Natural Chemistry Inc.; Ed Penfield, CSP, Aqua Island Technologies, Inc.; Joseph Vassallo, CBP, Paragon Pools; Paul Wahler, CSP; and Doug Winkler, Winkler Pool Management.
"Our industry is happy to recognize the newest Fellows for their selfless contributions to the pool, spa and hot tub industry," APSP President and CEO Rich Gottwald said. "Our Fellows represent a commitment to excellence and success in the industry. Their contributions are immeasurable."
APSP established the Fellows program in November 2012. The peer-nominated honor was developed by the APSP Board of Directors to recognize leaders whose contributions have enhanced the professionalism of the pool, spa and hot tub industry through teaching, research and/or exemplary service to others.
There is no single criterion for selection as an APSP Fellow. Each year, APSP will name 12 individuals as Fellows. These individuals may be nominated from any segment of the industry and may be honored posthumously. For more information about the program, visit APSP.org/Fellows or contact Manager, Professional Development Heather Corbin by email or phone at 703-838-0083, Ext. 274.
About APSP
The Association of Pool & Spa Professionals (APSP) is the world's oldest and largest association representing swimming pool, hot tub, and spa manufacturers, distributors, manufacturers' agents, designers, builders, installers, suppliers, retailers, and service professionals. Dedicated to the growth and development of its members' businesses and to promoting the enjoyment and safety of pools and spas, APSP offers a range of services, from professional development to advancing key legislation and regulation at the federal and local levels, to consumer outreach and public safety. APSP is the only industry organization recognized by the American National Standards Institute to develop and promote national standards for pools, hot tubs, and spas. For more information, visit APSP.org.