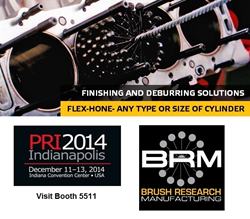 Distributor programs are available for jobbers and stocking warehouse distributors, and export inquiries are welcome.
Los Angeles, CA (USA) (PRWEB) November 19, 2014
Brush Research Manufacturing (BRM), American-owned supplier of surface finishing technologies, is announcing plans to attend the Performance Racing Industry (PRI) tradeshow from December 11 to 13, 2014 at the Indiana Convention Center in Indianapolis. BRM is also announcing the release of a new article about its product line, and a video that shows BRM surface finishing solutions for auto racing.
PRI 2014 is where manufacturers and warehouse distributors showcase products and technologies for racing retailers, engine tuners, race car builders, mechanics, and professional racers. For the nearly 50,000 member of the performance racing industry who attend this annual event, the PRI show is often the start line for purchasing decisions and business relationships.
Engine Hones, Brake Hones, and Auto Parts Finishing
As BRM's new article explains, the Flex-Hone® tool sets the standard for cylinder wall surface finishing. In addition to deglazing engine cylinders, flexible honing tools are great for deburring cross-holes and improving the surface finish of connecting rods and piston bores. For imparting a "basket weave" finish to brake rotors, fly wheels, and clutch plates, race car mechanics trust the Flex-Hone® for Rotors.
BRM NamPower technology is what winners in the performance racing industry choose for finishing the tops of engine blocks, and for plastic and metal auto parts. This family of high-performance nylon abrasive brush tools includes abrasive disc brushes, composite hub whels, abrasive hex-drive tools, and accessories such as lightweight tool holders with flow-through cooling.
Engine Rebuilds and Parts Cleaning
As BRM's new video shows, the California company supplies specialty diesel tools and automotive brushes, including valve guide, oil line and gallery, and display brushes. For parts cleaning, BRM offers part wash brushes made of long-lasting materials. BRM's soon-to-be-released soft-tip wheel cleaning brush is designed to remove dirt and debris from places that other wheel brushes just can't reach.
For more information about BRM's surface finishing solutions for the performance racing industry, contact BRM today and then visit Booth 5511 at PRI 2014. Distributor programs are available for jobbers and stocking warehouse distributors, and export inquiries are welcome.
About Brush Research Manufacturing
Brush Research Manufacturing (BRM), makers of flexible honing tools and a full line of industrial brushes, is located in Los Angeles, California. For over 55 years, BRM has been solving surface finishing challenges with brushing technology. BRM's Flex-Hone® tool is the industry standard against which all other ID surface finishing solutions are compared.
Media Contact:
Heather Jones
Director of Marketing
Brush Research Manufacturing Co. Inc.
4642 Floral Drive
Los Angeles, CA 90022
HJones(at)brushresearch(dot)com
For Immediate Release:
http://www.brushresearch.com/
Ph: (323) 261-2193