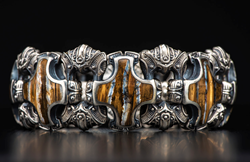 There is no better marriage in paper
McMinnville, OR (PRWEB) November 18, 2014
With an innovative strategic decision, John Varvatos (JV), the world-celebrated men's fashion brand, has partnered with American luxury brand William Henry (WH), and is now offering a broad selection of WH men's jewelry in its top boutiques in the US and UK.
The partnership was promoted by John Varvatos and currently involves all JV stores in New York, Los Angeles, Las Vegas, the new boutique in London. JV's online store is also making preparations to offer the new line.
While John Varvatos is not new to men's adornments, the decision to offer and promote a wide-ranging collection of men's jewelry with higher price points, is a bold new step, which confirms the evermore blurred lines that separate jewelry and fashion.
John Varvatos himself promoted the partnership. "It's actually a cool story." – says Matt Conable, owner and creative engine of WH. "John was chatting with country singer Zac Brown, who is a mutual friend. Zac told John about our brand, and gifted him his own WH pocketknife. A couple of weeks later John called me and told me his WH knife had become one of the favorite things he had ever carried in his pocket."
That opened the door: Conable and Varvatos sat down to look at William Henry's full range of offerings, including the new collection of jewelry for men, and John decided to bring WH into the JV lifestyle experience. Much like JV, WH creates truly unprecedented collections, that have great stories to tell, and also like JV, WH focuses exclusively on men.
One of the fastest growing segments in the industry, men's jewelry is becoming consistently more available to customers, with many top brands ramping-up their investments in men's lines. While traditional jewelers remain the natural outlet for these new collections, exclusive men's fashion boutiques are an ideal space where men can comfortably approach the new category and explore the available offerings.
William Henry established its brand nearly 20 years ago creating exclusive pocketknives. "We are all about men" – adds Conable. "Unlike almost every player in the fashion industry, JV is also entirely focused on men. Our 2 brands speak the same language with different core products and collections. WH and JV in stores together give men a more meaningful and complete lifestyle experience; there isn't really a better marriage on paper than the one between our brands".
John Varvatos and Matt Conable are already discussing the expansion to JV worldwide stores in 2015, and they are also working together to develop an exclusive collection available only through JV Boutiques.
###
About William Henry
William Henry is an American luxury brand devoted to the vision of designing and creating superlative personality statements for men. Designer and entrepreneur Matt Conable founded the company in 1997 and is now the sole owner. Conable first established the brand creating exclusive and award-winning pocketknives, effectively transforming the archetype of all tools into a superb piece of functional jewelry for men. Today's collections also include cufflinks, writing instruments, money clips, key chains, and golf tools.
The seamless integration of classic natural materials, precious metals & gemstones, and state-of-the-art alloys is a hallmark of William Henry's work. Most of the brand's creations are limited editions, and the use of exotic materials make every piece truly unique. William Henry's collections are available on its website and over 450 selected retailers in the Unites States and abroad.
For more info on WH visit williamhenry.com