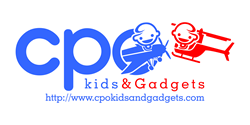 "CPO Gadgets feels the best way to learn from consumers is not from what you can get them to buy, but instead, an appreciation of the experience and lifestyle utility they would like to derive from yours' and other's products," said Charles Ogilvie, CEO
Palm Desert, Calif. (PRWEB) November 17, 2014
CPO Kids & Gadgets, LLC. today announced its ribbon cutting opening ceremony date and time, are now confirmed for 4 p.m. on Tuesday, November 18, 2014. The Palm Desert Chamber of Commerce, in partnership with Westfield Palm Desert, has embraced the CPOK&G concept. A group of local leaders, fellow tenants, Westfield, Palm Desert Landlords, and the Palm Desert Chamber of Commerce and their invitees will gather to commemorate the symbolic ribbon cutting gesture for not only a new flagship store, but towards progression in "learning retail" experiences and CPOK&G's unique concept.
"CPO Gadgets feels the best way to learn from consumers is not from what you can get them to buy, but instead, an appreciation of the experience and lifestyle utility they would like to derive from yours' and other's products," said Charles Ogilvie, CEO, CPO Kids & Gadgets, LLC.
Products are out of boxes in many cases and two-way learning is encouraged. During November and December, CPO Kids & Gadgets js planning a series of events and giveaways to make the holiday season even more fun. In its tradition of fun and education, CPO Kids & Gadgets, LLC has worked a special promotional deal to include a huge floor keyboard --- something akin to the movie "Big", where Tom Hanks enjoys chopsticks – a surefire way to engage through hands-on-play.
Through the Palm Desert Chamber of Commerce, CPO Kids & Gadgets, LLC has donated some exciting toys to Marine families at the nearby 29 Palms Marine Base. CPO Kids is also in discussions with Westfield management about hosting Marine family baby showers in Westfield Palm Desert, providing a unique venue for such special occasions.
"We certainly feel that both the Palm Desert Chamber and Westfield Palm Desert have embraced the idea of developing Palm Desert in many ways, and we are very proud to be members and tenants," said Charles Ogilvie, CEO CPO Kids & Gadgets, LLC.
The CPOK&G concept store has 3 primary areas all designed to focus on interaction and both direct and in-direct customer feedback:
(1) "0-1 Baby Room" which houses great gifts for the 0-1 infant market;
(2) a "Toddler & Kids - Adventure Room" which houses everything from toddler riding toys, apparel to innovative learning games and gift ideas; and
(3) a "Big Kids: Gadget Gallery". What gadgets will be there? one might ask – everything is an experiment and the product mix will change based on feedback and customer engagement. You'll have to come and see to understand the process or get involved and become part of the process!
CPO Kids & Gadgets, LLC. was pleased to see confirmation in PSFK's Latest Future of Retail Trends Report 2015 and hear feedback on retail techniques being adopted to enhance consumer engagement that directly support the validity of CPOK&G's strategy.
"Generally, it is tough and takes big thinking to try something new in retail," said Charles Ogilvie, CEO CPO Kids & Gadgets, LLC., "however what might appear a risky trial or foray, is proving more mainstream. The early risk-takers who saw mobile, in-store analytics, and product engagement awareness as areas to explore are now motivated to refine their experiments. Corporations who execute this year (versus staying in 'study mode') will reap the rewards swiftly."
CPO Kids & Gadgets, LLC, without the stamina nor stigma of major legacy retailers is able to make a run at agility in the unique niche pairing of Kids & Gadgets.
For more details on Tuesday's ribbon cutting ceremony, please visit: http://palmdesertchamber.chambermaster.com/events/details/big-ribbon-cutting-cpo-kids-gadgets-palm-desert-westfield-2996
CPO Kids & Gadgets, LLC.
Privately held and headquartered in Palm Desert, California, CPO Kids & Gadgets, LLC is one of the nation's first challenger brands to emerge that focuses on lifestyle, production adoption and creative education in a uniquely paired niche: Kids & Gadgets. It is the only learning boutique known of its kind designed to use store learning to reinvent its product mix and drive iteration into the procurement of development process, despite experts such as PSFK citing in their most recent 2015 report that 21st retailers must, "Transact in Culture, Experiences and Relationships."
"The best expert is the client," said Charles Ogilvie, CEO CPOK&G, "however they feel confident and are willing to try something new when their deputies share positive feedback about an experience."
CPO Kids & Gadgets, LLC. is a member of the Palm Desert Chamber of Commerce and it tips its' hat to local business and hopes more global focus will continue to come to Palm Desert as an area where business innovation can thrive. CPO Kids & Gadgets, LLC has earmarked and intends to donate 10% of its 2015 profits to charities in the communities we serve that are focused around the use of technology to better the environment as well as increase opportunities for youth. Our slogan is: "Kids & Gadgets are the Future of Palm Desert".
The Palm Desert area is easily accessed through flights to Palm Springs Airport (PSP) on many airlines including: Air Canada (AC Rouge to Vancouver), Alaska (Portland, OR and San Francisco, CA), Westjet (from Vancouver, Edmonton, Calgary daily, as well as Winnipeg and Toronto), Virgin America (from San Francisco, Allegiant Air (from Bellingham, WA), American (Chicago, IL, Phoenix, AZ San Francisco, CA and Dallas, TX), Delta (Minneapolis, MO and Salt Lake City, UT on Skywest), Frontier (Denver, CO), Sun Country (Minneapolis, MO), United (Chicago, IL, Denver, CO & San Francisco, CA on Skywest), and US Airways (Phoenix, AZ). Source: http://psp.fltmaps.com/en
Westfield Palm Desert is owned by the Westfield Group, an Australian-based company with interests in 128 shopping centers in Australia, New Zealand, the United Kingdom and the United States. The Westfield America portfolio includes 68 shopping centers that are home to more than 9,000 specialty stores and comprise approximately 70 million square feet of leasable space in California, Colorado, Connecticut, Florida, Illinois, Indiana, Maryland, Missouri, Nebraska, New Jersey, New York, North Carolina, Ohio and Washington.
The Palm Desert Chamber of Commerce has proudly served as the leading force of the Palm Desert business community since 1954. With over 1,100 members strong, our 5 Star accredited Chamber is the largest and most respected in the Coachella Valley and second largest in the County of Riverside. It has developed a reputation for exemplary service and quality programs.
Chamber member businesses enjoy benefits such as networking, special events, publicity and promotion opportunities, seminar and personal growth opportunities, government advocacy, regular newsletters full of information on business issues, recognition programs and referrals - lots and lots of them!
Our Chamber is your Chamber. We work for you and for the betterment of the greater Palm Desert business community. Belonging to the Chamber is a sound investment in your business and your community. For information on Chamber membership or any of our programs, call (760) 346-6111 or email info(at)pdcc(dot)org. We're here for you.
PDCC has a Mission Statement: To promote, support and enhance business prosperity, civic vitality and quality of life.
PSFK examines trends in major corporations. The company does research for corporate clients to determine exiting trends, and internationally renowned trend-analysis and forecasting consumer behavior.
For media inquiries, to be added to our distribution list, or receive more information on the upcoming Grand Hard Opening, special media & VIP previews, and future plans, please email pr(at)cpokidsandgadgets(dot)com.