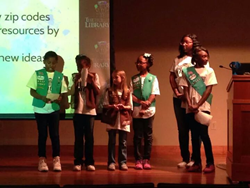 Columbus, GA (PRWEB) November 18, 2014
"Badge it Up," a website and app created by Girl Scout Troop #50132, earned the girls the $2,000 first prize in the first annual Hack Columbus Hack-a-thon at the Chattahoochee Valley Library. Girl Scouts Anaia Carney(Brownie), Azaria Carney(Junior), D'Mija Davis (Junior), Tiondra Grant (Senior) , Angel Smith (Brownie), and Taiylor Williams(Junior) developed "Badge it Up" with the help of 13-year-old programmer and entrepreneur William Harris from Blackmon Road Middle School. The app provides access to information about all the Girl Scout badges and links to resources in the library that can help girls earn them.
The girls had two days to design and develop a prototype for the judges to see. Though unfinished, the prototype can be accessed at http://www.badgeitup.com. The troop's prize money will be used to complete and launch the app, which is scheduled for December 2014.
"I was proud to see our girls accomplish so much in such a short time," said Lavelle Williams, troop leader and Girl Scout mom. Girl Scouts of Historic Georgia encourages girls to explore careers in STEM (science, technology, engineering and math) through participation in programs like this one and by hosting STEM programs throughout the council.
About Hack Columbus:
Hack Columbus fosters localized innovations and challenges its members to better themselves and the experiences of those around Columbus, Georgia. The organization invites people who are curious, creative, and tech-savvy to come together to create a strong development and maker community serving the Southeast. Their joint project with the Chattahoochee Valley Libraries, called Hack the Library, is a community event focused on applying technology to help Chattahoochee Valley Libraries better engage its community and empower its customers. The competition was sponsored by the library, Community Foundation of the Chattahoochee Valley, John S. & James L. Knight Foundation, Shaffer Labs, and Stand and Stretch.
About Girl Scouts:
Founded in Savannah, Georgia in 1912, Girl Scouts of the USA is the preeminent leadership development organization for girls with 3.2 million girl and adult members worldwide. Girl Scouts is the leading authority on girls' healthy development, and builds girls of courage, confidence and character, who make the world a better place.
Girl Scouts of Historic Georgia serves 18,000 members throughout Georgia, including areas surrounding Albany, Athens, Augusta, Columbus, Gainesville, Macon, Savannah, Statesboro, Tifton and Valdosta. For more information on how to join, volunteer, reconnect or donate to Girl Scouts, visit http://www.gshg.org.