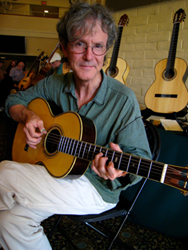 Petaluma, CA (PRWEB) November 24, 2014
Instrument case and gig bag maker Reunion Blues officially welcomes folk guitarist Stevie Coyle to their artist line-up. Stevie Coyle, of the whiz-bang string band The Waybacks, grew up surrounded by music. His dad ran a radio station and brought home all the promo LP's. String-meister David Lindley played in a bluegrass band that rehearsed next door to Stevie and gave him his very first lessons. Stevie's dear Granny was a pianist in the heyday of vaudeville and his mother was a whiz in mandolin orchestras during the 1930s.
In high school, Stevie began fingerpicking, inspired by that first Hot Tuna album. He and his good friend Roy Zimmerman have worked closely in several collaborations over the past 25 years, including folk tribute / parody band The Foremen and comedy duo The Reagan Bros. In the Bay Area, he played in folk duos The Frontmen and The Back Room Boys and in 1999 he co-founded The Waybacks and toured steadily with them from 2001 through 2007.
Stevie's gone solo now, and is busily booking tours and completing his first solo CD, produced by singer/songwriter and guitar guru Walter Strauss. Last year Stevie also opened Mighty Fine Guitars, a high-end shop in Lafayette, CA that specializes in top-shelf lutherie, handcrafted guitar lessons, and intimate concerts featuring touring pros, all under one roof.
Reunion Blues is proud to support Stevie Coyle, and welcome him to their growing family of artists.
For more information please visit us at http://www.reunionblues.com
Founded in 1976, Reunion Blues is the music industry's premier gig bag and case company. Reunion Blues offers an extensive product selection including over 100 models of cases and bags for fretted, brass, woodwind, strings and percussion instruments.Reunion Blues is dedicated to maintaining exceptional quality, and is committed to product innovation, superior design and distinguished style.