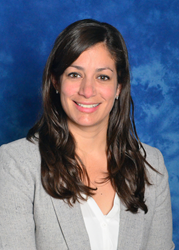 Pittsburgh, PA (PRWEB) November 18, 2014
Fellowship-trained orthopaedic oncologist Lisa Beth Ercolano, MD, has joined Allegheny Health Network, where she will specialize in the surgical treatment of benign and malignant bone tumors in both children and adults.
Dr. Ercolano comes to Allegheny Health Network from Massachusetts General Hospital, where she was a clinical fellow in orthopaedics and a fellow in the combined Harvard/Massachusetts General Clinical Fellowship in Orthopaedic Oncology.
Among a very select group of fellowship-trained orthopaedic oncologists practicing in the United States, Dr. Ercolano brings to our region advanced expertise in the treatment of bone tumors, including rare and complicated malignant diseases, as well as tumor-like conditions such as polyostotic fibrous dysplasia. She will perform procedures including limb salvage, endoprosthetic reconstructions and allograft reconstructions.
The field of orthopaedic oncology has developed over just the last 30 years, as advances in chemotherapy, radiation oncology, imaging, and surgical margin concepts have improved the survival of patients with primary bone and soft tissue sarcomas. Additionally, these advances, coupled with improvements in prosthetics and reconstructive techniques, have made limb salvage possible in the majority of cases.
"We are very happy to welcome Dr. Ercolano to our orthopaedic and oncology teams at Allegheny Health Network," said Patrick DeMeo, MD, Chair, Department of Orthopaedic Surgery, Allegheny Health Network. "Her exceptional skills as a surgeon and unique expertise provide us with a critical new resource for patients in the region who are diagnosed with bone tumors and other complicated orthopaedic developmental disorders."
"The treatment of bone cancers requires a collaborative, multidisciplinary approach, and we are fortunate to have someone of Dr. Ercolano's caliber and training on our team," said David Parda, MD, Chair, Allegheny Health Network Cancer Institute."Orthopaedic oncology is a critical specialty for the treatment of all cancers, as bone and soft tissue problems are common. Surgical Intervention, as part of multidisciplinary care, improves cure rates, reduces pain and improves quality of life while maintaining the structural integrity of bones and soft tissues."
Dr. Ercolano will practice at Allegheny General Hospital. Her office can be reached at 412.359.3895 or 1.877.660.6777.