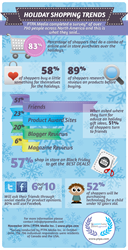 With the evolution of strong online retailers in the U.S. and Canada, shoppers are heading into the holiday season knowing that they'll be able to mix both forms of shopping to get the best bang for their buck
Toronto, Ontario (PRWEB) November 25, 2014
Holiday tunes are chiming through your neighbourhood mall and festive garlands are up in most storefronts. Retailers are ready to welcome the holiday crowds. But how are people gearing up for the busiest shopping season of the year? In a survey of 796 consumers from the U.S. and Canada, PTPA (North America's largest community of parent testers), found that 83.3 percent of respondents will check items off their list by combining in-store and online shopping.
"With the evolution of strong online retailers in the U.S. and Canada, shoppers are heading into the holiday season knowing that they'll be able to mix both forms of shopping to get the best bang for their buck, make informed purchasing decisions and save time," says Sharon Vinderine, Founder and CEO of PTPA. Additionally, here are some of the key trends that consumers will embrace this Holiday Season:
Doing your homework before reaching for the wallet
Shoppers are itching to learn more about the products they plan to purchase and how they can get them at a cheaper price. Luckily for them, the web puts a wealth of reviews and price comparison tools at their disposal.

88.7 percent will look up reviews of the products they plan to buy in advance of purchasing
Six out of 10 (63.1%) will ask their friends on social media accounts for product opinions-- they will largely do so on Facebook (79.9%)
77.1 percent will look up deals online. However, paper offers aren't anywhere close to obsolete- more than half of those surveyed ( 58.8%) will check out printed flyers for this season's best deals
Banking on hot Holiday deals
While many have already gotten a head-start with holiday shopping (47.5%), 51.1 percent say they expect the hottest deals of the season to hit stores on Thanksgiving, Black Friday and Cyber Monday.

Six out of 10 (59.8%) are likely to shop on the infamous Friday
The majority of respondents say they're motivated to visit stores this Thanksgiving Friday to take advantage of doorbusters (36.2%) and because they believe they'll access the best deals of the season (20.6%)
'Tis the season for giving… and treating yourself
The holidays are all about putting a smile on the faces of those we love. While consumers are still very much focused on the spirit of the season, many admit giving in to temptation.

70.9 percent spend less on themselves during this time of year so they can buy gifts for family and friends. Yet, 58 percent are thinking of buying an item (or two) that they can call their own
68.2 percent will shell out more than $300 on holiday gifts, while seven percent will spend more than $1,000
This Holiday Season, PTPA is your go-to resource for the latest and greatest in parenting products. Sharon Vinderine is available for interviews immediately. She can walk your audience through the highlights of the survey or inspire them with the hottest Parent Tested, Parent Approved gift ideas.
For more details on the survey or to schedule an interview with Sharon, please contact her at pr(at)ptpamedia(dot)com . Check out Sharon's past TV appearances at:http://www.youtube.com/ptpamedia
About the PTPA Seal of Approval
The PTPA Seal of Approval program is all about recognizing and celebrating great products and services that families love. Each submission goes through our extensive testing and evaluation process and only those who are able to stand up to the rigours of hands-on parent testing earn the designation of the PTPA Seal of Approval.