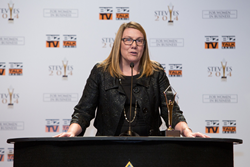 This recognition is a testament to the success of Tollgrade's marketing strategy, and we couldn't be happier that Kim has received this recognition on a global stage
Reston, VA (PRWEB) November 18, 2014
Tollgrade Communications, Inc., the industry leader in redefining the global standard for reliability at the world's largest electric utilities and telecommunications providers, announced today that Kimberly M. Getgen, Tollgrade's vice president of corporate marketing, won the "Maverick of the Year" award at the 11th annual Stevie® Awards for Women in Business. More than 1,200 international entries were submitted this year for consideration in more than 90 categories The Stevie Awards have been hailed as the world's premier business awards.
"Since taking over as vice president of corporate marketing last year, Kim has delivered astounding results," said Edward H. Kennedy, CEO and President, Tollgrade Communications. "This recognition is a testament to the success of Tollgrade's marketing strategy, and we couldn't be happier that Kim has received this recognition on a global stage."
"In the 11 years of the Stevie Awards for Women in Business, we have never had as many impressive women entrepreneurs, organizations, and executives nominated as we did in 2014. Their stories of success and innovation will be an inspiration to women around the globe who dream of starting and growing a business and making a difference." said Michael Gallagher, founder and president of the Stevie Awards. "We congratulate all of this year's Grand, Gold, Silver and Bronze Stevie Award winners for their achievements."
Stevie Award winners were selected by more than 160 executives worldwide who participated in the judging process this year and awards were presented in New York on November 14. The presentations were broadcast live across the U.S.A., and simulcast around the world, by Biz Talk Radio, and will be featured in a television special on Biz TV in January. Details about the Stevie Awards for Women in Business and the list of Finalists in all categories are available at http://www.StevieAwards.com/Women.
About The Stevie Awards
Stevie Awards are conferred in six programs: the Asia-Pacific Stevie Awards, the German Stevie Awards, The American Business Awards, The International Business Awards, the Stevie Awards for Women in Business, and the Stevie Awards for Sales & Customer Service. Honoring organizations of all types and sizes and the people behind them, the Stevies recognize outstanding performances in the workplace worldwide. Learn more about the Stevie Awards at http://www.StevieAwards.com.
About Tollgrade
With more than 200 million lines under test, millions of utility outage minutes avoided annually and 25 years of experience successfully locating faults at the world's largest electric utility companies and telecommunication service providers, Tollgrade is redefining the global standard for reliability. Our award-winning fault detection hardware and predictive analytics software is deployed on four continents to help operators avoid network outages and reduce customer downtime. Tollgrade has been recognized as one of the Top 13 Smart Grid Companies to Watch in 2013 by SmartGrid News, and received Fierce Energy awards in "Substation Automation and Distribution Automation" and "Asset Management." Tollgrade was named the Smart Grid Sensor market share leader in North America by IHS Research, and has been recognized as a Platt's Global Energy Awards finalist in 2013 and 2014. To learn more about Tollgrade, visit http://www.tollgrade.com or read more about the benefits of grid modernization on our blog at http://www.tollgrade/blog.com.
Tollgrade Media Contacts:
Kimberly Getgen
Vice President, Corporate Marketing
Tollgrade Communications, Inc.
+1 703-408-1571 (mobile)
+1 703-707-4561 (office)
Anne-Laure Leroyer
Manager, Smart Grid Marketing
Tollgrade Communications, Inc.
+1 202-701-0083 (mobile)
+1 703-707-4588 (office)
###