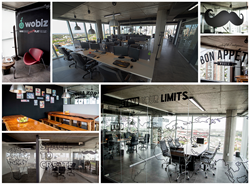 Wobiz gives small businesses a huge edge in reaching customers, no matter how or where they shop online
Buenos Aires, Argentina (PRWEB) November 20, 2014
Building on eight years of industry expertise, a team of ecommerce experts is launching Wobiz: a user friendly online store builder and business management platform for SMBs (small and medium-sized businesses).
An umbrella solution for businesses looking to open an online store while selling across marketplaces like MercadoLibre, eBay, Buscape and Amazon, Wobiz offers SMBs access to the booming ecommerce market, which will generate $57 billion in online sales in Latin America and Brazil, and $1.5 trillion worldwide in 2014. "What we are offering is a real game changer for SMBs in Latin America and beyond," remarks Wobiz CBO, Brennan Lake, "wobiz gives small businesses a huge edge in reaching customers, no matter how or where they shop online."
While alternative website and online store builders offer businesses cookie-cutter websites with payment gateways, Wobiz offers template-based design for beginners, and advanced HTML5 editing controls for expert designers. With the robustness of enterprise-grade ecommerce and inventory management software, and the simplicity of an intuitive admin dashboard and drag-and-drop editor, entrepreneurs can grow their businesses while leaving the complex online management components to Wobiz. Through its premier offering, Wobiz delivers a turn-key ecommerce and store management service for enterprise clients.
Set to launch in early 2015, Wobiz is currently available to the general public by invite only. Ahead of the launch, the company has expanded its corporate headquarters in Buenos Aires with a new 3,500 sq ft office in Buenos Aires, to accommodate 50 employees. Business development offices have also been opened in the US and Brazil.
Wobiz will be available this year in Brazil through a joint partnership with Terra Networks, a Brazilian multimedia company, and Cielo S.A., a major payment processor in Brazil. "Partnering with a market leader like Cielo reaffirms the goal of Terra to provide accessible digital solutions to small and medium businesses" comments Terra CEO, Paulo Castro. "By offering easy entry into the online market, we are broadening the range of business opportunities for our customers. I am positive that this initiative will be a success for both companies, as well as for the local SMB market as a whole." Echoing Castro's sentiments, Wobiz Managing Director of Brazil, Hermes Benites adds "With wide-scale distribution led by industry giants Terra and Cielo, Wobiz will deliver an accessible and user-friendly solution to the millions of Brazilian SMBs that have yet to break through the brick and mortar silo."
Corporate partners Telefonica and Santander Bank will also begin marketing Wobiz to their respective SMB customers across Latin America and Europe in early 2015.
About Wobiz:
Wobiz is a user-friendly online store builder and business management platform made for small, medium and enterprise-grade businesses. Wobiz will be available to the general public in 2015 through portals in English, Spanish and Brazilian Portuguese. Small businesses can also access Wobiz through partnerships with Santander Bank, Telefonica and through forthcoming corporate partnerships in Brazil. Wobiz is headquartered in Buenos Aires, Argentina, with offices in the United States and Brazil.