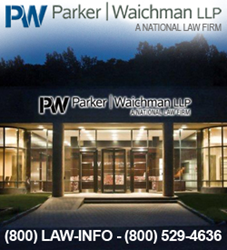 "we have long followed issues involving stents and stent procedures in which patients suffer significant injury, even death,"
Port Washington, New York (PRWEB) November 18, 2014
Parker Waichman LLP, a national law firm long dedicated to representing victims of defective drugs and medical devices, including drug-eluting cardiac stents, comments on an announcement issued by the U.S. Food and Drug Administration (FDA) on November 16, 2014, in which the agency issued a Safety Announcement in which it indicated that it is reviewing potential long-term risks of anti-platelet therapy.
According to the agency, it is reviewing preliminary data from a Harvard Clinical Research Institute (HCRI) study, dated November 16, 2014 and entitled, "Twelve or 30 Months of Dual Antiplatelet Therapy after Drug-Eluting Stents." The study, which involved research on Plavix (clopidogrel) and Effient (prasugrel) revealed that, while early clinical trial data revealed that treatment with dual anti-platelet blood-thinning therapy for 30 months did decrease heart attack risks and the risk of clot formation in stents, an overall risk of death was seen when compared to a 12-month course of treatment.
The Dual Antiplatelet Therapy (DAPT) trial was published in the New England Journal of Medicine on November 16, 2014.
Cardiac stenting involves propping open a narrowed coronary artery with a tiny, metal mesh tube that is coated with medication, Parker Waichman LLP explained. Stents open arteries to better ensure blood flow to the heart. The medications are meant to prevent heart attack, stroke, and clot-related diseases.
"During emergency surgery, when a patient is suffering a heart attack, for example, a drug-eluting stent can save a life; however, we have long followed issues involving stents and stent procedures in which patients suffer significant injury, even death," says Gary Falkowitz, Managing Attorney at Parker Waichman LLP. "Our firm continues to represent individuals who have allegedly suffered serious injuries or death as a result of cardiac stenting."
Parker Waichman LLP continues to offer free lawsuit consultations to victims of cardiac stenting. If you or a loved one experienced complications following surgery in which a cardiac stent was implanted, please visit the firm's Drug Coated Stents Injury Page at yourlawyer.com. Free case evaluations are also available by calling 1-800-LAW-INFO (1-800-529-4636).