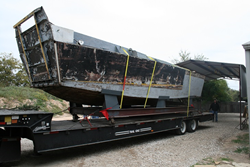 Fredericksburg, Texas (PRWEB) November 18, 2014
Last Friday the National Museum of the Pacific War and Admiral Nimitz Foundation received a LCVP Higgins Boat, which they will restore and put on exhibit down at the Pacific Combat Zone.
As plans were being finalized for the renovation of the Pacific Combat Zone, we received word that two Landing Craft, Vehicle, Personnel (LCVP) or "Higgins boats" were being donated for display in a new building in the soon to be renovated Pacific Combat Zone. Actually, the boat in the poorer shape will serve as a "hangar queen," i.e., it will be cannibalized for parts so the boat to be displayed will be in A-one condition. The donors of this exceptional piece of World War II history are A. Baker Duncan, III, Rufus Duncan, and Robert B. Phelps. Transportation of the boat was underwritten by Malcolm Duncan, Sr. and provided by Tom Wright Construction out of Waco, Texas.
The Higgins boats were used extensively in the Pacific Theater, including at the Battle of Guadalcanal, Tarawa, and the Battle of the Philippines, Iwo Jima and Okinawa. In one of the more dramatic examples of their use, Eddie Albert, the actor and former trustee of the Admiral Nimitz Foundation, piloted one during the invasion of Tarawa and received a Bronze Star for his actions when he rescued 47 Marines who were stranded offshore and supervised the rescues of 30 others while under heavy enemy machine-gun fire.
Restoration does not have a start date at this time, but the Higgins Boat will have an exhibit spot in the new construction of the Pacific Combat Zone, which is slated to start sometime in 2015.
The National Museum of the Pacific War is a Texas Historical Commission property supported, operated, and managed by the Admiral Nimitz Foundation