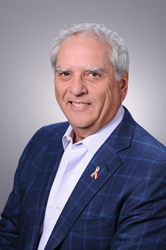 Washington D.C. (PRWEB) November 17, 2014
In honor of Pancreatic Cancer Awareness Month this November, Dr. Steven N. Rice, a periodontist in Washington, D.C. with the Advanced Laser Gum Surgery – Institute of Washington, raises awareness of the link between gum disease and pancreatic cancer. Dr. Rice now offers a laser gum disease treatment. One of the most advanced and effective procedures Dr. Rice uses to fight the condition is the LANAP® protocol, an innovative laser gum surgery that targets the bacteria that cause gum disease.
Gum disease begins as gingivitis, a common condition characterized by redness, swelling and bleeding of the gums. When it progresses to periodontitis, permanent damage to the bone and tooth-supporting tissues is done and bacteria filled pockets begin to form along the gum line. These pockets of bacteria create open wounds in the gums that allow bacteria to directly enter the bloodstream. This can contribute to the incidence of many diseases, including pancreatic cancer. Recent research has shown a direct link between gum disease and pancreatic cancer. Results showed that men with periodontal disease had a 63 percent greater chance of developing pancreatic cancer than those who reported no periodontal disease. Inflammation as well as opportunistic bacteria are believed to contribute to the promotion of cancer cells in the pancreas.
As a periodontist in Washington, D.C., Dr. Rice aims to prevent any of his patients from developing pancreatic cancer through the use of the LANAP® protocol. This gum disease treatment is performed using a laser, the PerioLase®MVP-7™. The laser sends gentle pulses of light that have been specially calibrated to only destroy bacteria and the infected tissue. Instead of cutting away diseased tissue, which often takes a large amount of healthy gum tissue along with the diseased tissue, this procedure leaves healthy tissue alone and allows it to easily reattach to the root of the tooth. No stitches are used, and gum recession rarely occurs. The procedure boasts a short recovery period, very little bleeding and a high success rate.
Patients in need of a periodontist in Washington D.C. are encouraged to contact Dr. Rice's office for more information on gum disease treatment and prevention in honor of Pancreatic Cancer Awareness Month.
About the Practice
Advanced Laser Gum Surgery- Institute of Washington is a periodontal practice offering patients personalized dental care in Rockville, Maryland since 1981. Dr. Steven N. Rice received a Doctor of Dental Surgery degree from the University Of Maryland School Of Dentistry. He continued his education as a General Practice Resident in the United States Army, where he was awarded a Medal of Commendation. He studied periodontics at the Medical College of Georgia and was recognized as a Diplomate of the American Board of Periodontology upon completion. Dr. Rice is part of one percent of dental professionals providing the LANAP® FDA cleared laser procedure for gum disease treatment. To learn more about Advanced Laser Gum Surgery Institute of Washington and their dental services visit their website at http://www.advancedgumsurgery.com and call (240) 747-7355.