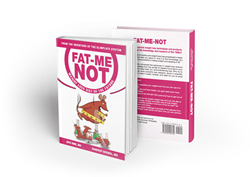 Body shaming is real, but we can't allow it to silence the discussion.
Rock Hill, SC (PRWEB) November 19, 2014
Walmart's "Fat Girl" controversy highlights how sensitive people are to one word, says weight loss expert Dr. Myo Nwe, who wonders if the outrage only serves as a distraction. Dr. Nwe, co-founder of the Ace Medical Weight Loss Center in South Carolina and co-author of "Fat-Me-Not: Weight Loss Diet of the Future", is encouraging patients to not be upset by the word "fat." Her new book embraces the realities of the term from both a scientific and a social standpoint.
"When Walmart labeled Halloween costumes specifically for 'fat girls,' people were right to be offended," Dr. Nwe says. "But don't turn it into a dirty word where Americans have to tip-toe around the topic. Weight management is far too important for that."
According to Dr. Nwe, the word "fat" can have many diverse meanings at different times, but it shouldn't be used as a weapon or feared like one.
"It's time to have a serious conversation about weight control in this country," says Dr. Nwe. "This is a life-and-death issue—not a debate over appropriate use of words. Too much energy is spent discussing the word 'fat' when perhaps it should be redirected elsewhere."
Nwe is a practicing internal medicine specialist in South Carolina. Her book "Fat-Me-Not" examines weight loss as an industry, assessing the many changing trends of dieting against the scientific realities of the digestive tract. She also explores the social concepts of being overweight, including case studies from her own practice.
"Body shaming is real, but we can't allow it to silence the discussion," Dr. Nwe writes. "The best weight loss strategy is to have your eyes and mind wide open—to confront the real issue and not get caught up in controversy." She also says we need to understand the body as well as the struggle many obese people face in their daily lives.
"And that means not limiting our vocabulary," Dr. Nwe says. "There is an enemy in this fight, but it isn't words."
Reference: http://www.businessinsider.com/wal-mart-sells-fat-girl-costumes-2014-10