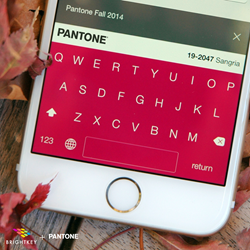 Brightkey is thrilled to partner with one of the most recognized brands in the design world and the true authority on color.
San Francisco, CA and Carlstadt, NJ (PRWEB) November 18, 2014
Brightkey Limited, maker of the Brightkey keyboard for Apple's iPhone, iPad, and iPod touch devices running iOS 8, today announced a first-of-kind partnership with Pantone, the world-renowned authority on color and provider of color systems and color technology.
Together, the companies will deliver colorful, seasonally aware themes to users of the popular Brightkey keyboard, starting with immediate availability of colors from the PANTONE Fashion Color Report for Fall 2014. Future releases will include trend colors identified by Pantone, including colors from PANTONE's Fashion Color Report for Spring 2015.
The Brightkey keyboard is an alternative to the standard keyboard that comes with Apple iOS devices. It provides standard keyboard features such as auto-correction and predictive text, while adding more advanced editing capabilities such as user configurable Quick-fire™ messages (templates that "live" under your keyboard) and custom themes to personalize the experience (including thus the on-trend colors from the PANTONE Fashion Color Report for Fall 2014).
"Brightkey is thrilled to partner with one of the most recognized brands in the design world and the true authority on color. Together we are delivering beautiful color and color curation services integrated with the Apple technology," said Matthew De Santis, CEO of Brightkey. De Santis continued, "Color is so important to our daily lives and up until now, this has been missing in the Apple keyboard experience. We think it will be crucial for the Apple Watch as well."
"Brightkey offers a familiar user experience and elegant aesthetic that Apple users expect, while delivering features they haven't had before in a keyboard," says Ramsey Pryor, Chief Revenue Officer at Brightkey. "This partnership allows us to offer the very best in terms of color to Apple post-PC devices, and we have exciting plans to make the Pantone theme experience dynamic and engaging."
Today, the PANTONE Name is known worldwide as the standard language for accurate color communication, from designer to manufacturer to retailer to customer, across a variety of industries. Pantone continues to develop color communication and inspirational tools, and aggressively adopts new digital technology to address the color needs of the creative community everywhere.
"We are delighted to partner with Brightkey and to have PANTONE Colors featured in such a fun and engaging app. Our customers are designers who want to customize every aspect of their lives and we see this as a natural opportunity for them to express themselves with on-trend color, wherever they go," said Ron Potesky, Senior Vice President and General Manager at Pantone.
The Pantone themes are available as in-app purchases within the Brightkey keyboard app, which is free of charge and available worldwide on the Apple App Store. Since launching alongside iOS8 in September, Brightkey has established a wide user base in over 200 countries.
About Brightkey
Brightkey (Software) Ltd. is an angel-backed startup software company that launched its high quality third party virtual keyboard, called Brightkey Keyboard, for Apple's iOS operating system on September 17, 2014.
About Pantone and the Pantone Color Institute Pantone LLC, a wholly owned subsidiary of X-Rite, Incorporated, is the global color authority and provider of professional color standards for the design industries. Pantone products have encouraged colorful exploration and expressions of creativity from inspiration to implementation for more than 50 years. Through the Pantone Color Institute, Pantone continues to chart future color direction and study how color influences human thought processes, emotions and physical reactions. Pantone furthers its commitment to providing professionals with a greater understanding of color and to help them utilize color more effectively. Always a source for color inspiration, Pantone also offers designer-inspired products and services for consumers. More information is available at http://www.pantone.com.
Media Contacts and Assets
Please contact media(at)brightkeysoftware(dot)com or telephone us directly at +1-925-391-0490.