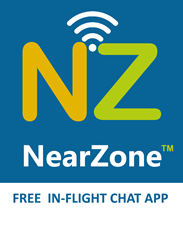 It doesn't rely on a middle man, and no one is looking over your shoulder
Rock Hill, SC (PRWEB) November 18, 2014
Staying in touch while airborne has become much less of a hassle, thanks to the developers of a new mobile app NearZone. The app utilizes Bluetooth in smartphones to send instant bursts of data outside of traditional networks. The app, created by Ace Innovation Group, keeps allows passengers seated apart from one other in touch.
The service does not require an actual phone carrier to be active nor does it need a Wi-Fi signal to function. The technology connects people phone-to-phone.
"It's so common for parties flying together to be separated by seating assignments," says Myo Sandar Nwe, a developer of the NearZone app. "This can means several hours on some flights, often crucial time, that is simply lost in transit."
Myo admits that the technology was initially envisioned for people on the ground, but users quickly found unique ways to apply the service. "We knew people were connecting on subways and in offices, but we were thrilled to hear how convenient it's becoming in the skies," explains Dr. Sandeep Grewal, who also developed the app.
In-flight passengers who are separated between first class and coach would be able to stay in touch in situations where cell phone service is not possible. Likewise, families separated across aisles of airline seats can stay linked throughout the journey.
The NearZone app has a range in which data can be sent and received. Users can share profiles or send messages, all instantly and outside of their normal connectivity platforms. "It's more akin to a walkie-talkie, which is partly why I think it's gaining popularity," Myo says. "People like the privacy and immediacy it offers. Plus, it's a lot of fun."
According to Dr. Grewal, users feel like they're taking some control back. "The traditional systems we use to connect with one another are massive and surprisingly public," says Grewal. "That's partly why people are intrigued by phone-to-phone. It doesn't rely on a middle man, and no one is looking over your shoulder."
NearZone is available for free download https://itunes.apple.com/us/app/nearzone-connect-chat-people/id892483085?mt=8.