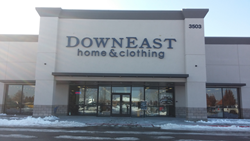 Boise, Idaho (PRWEB) November 18, 2014
High-style, low-price retailer DownEast today announced that its new DownEast Home & Clothing store, located in the CentrePoint Marketplace in Meridian, is now open. DownEast is a well-known brand in Idaho, with nine stores statewide. The new store is the second DownEast location in the state that carries furniture and home décor in addition to the company's popular clothing lines.
Along with the full line of its private-label furniture, DownEast Home & Clothing offers home furnishings from select national brands at 40 to 90 percent off retail. It also carries the DownEast Basics clothing line for women, teens and girls, as well as other favorite national fashion brands for women, men and children at well below retail pricing. The other Idaho-based DownEast Home & Clothing is in Idaho Falls.
To celebrate the new store, DownEast will host an official grand opening event—giving shoppers a chance to enter a "Shopping's More Fun With Your Friends" giveaway.
"Our other Boise location—a DownEast Basics store in the Boise Towne Square Mall—has performed very well, indicating this is a strong market for our clothing," said DownEast CEO Klane Murphy. "Over the years, we've also heard from numerous local shoppers familiar with our furniture concept in Idaho Falls and other places, asking for us to expand that part of our business here, as well. From a store count perspective, we're already one of the largest retailers in the state, particularly with regard to women's clothing, and we look forward to continuing to expand our presence and breadth of offerings for Idaho shoppers."
Known for its "boutique on a budget" philosophy, DownEast operates 58 locations throughout the West and has a national presence via its online store.
DownEast Offers "Shopping's More Fun With Your Friends" Giveaway
To celebrate the new opening, DownEast is offering a chance to enter a "Shopping's More Fun With Your Friends" giveaway from Friday, November 14, to Monday, December 1, 2014. Customers can register for the giveaway at the new DownEast Home & Clothing store in Meridian. The giveaway will award one lucky winner a shopping spree valued at $200 and also present a $50 gift certificate to each of four friends selected by the winner. The winner does not have to be present at the time of the drawing on Tuesday, December 2, to win.
For contest updates and news, customers can join the DownEast Home Facebook Fan Page and follow the brand on Twitter and Instagram. They can also follow the At Home with DownEast Home blog (downeasthomeblog.com) for style advice and design inspirations.
Visit the New DownEast Home & Clothing Store in the CentrePoint Marketplace
The new DownEast Home & Clothing store is in the CentrePoint Marketplace at the intersection of Eagle Road and Ustick Road in Meridian. The store is located between Dick's Sporting Goods and Hobby Lobby. Zach Ward, previously an assistant manager at the DownEast Home & Clothing in Idaho Falls, will serve as store manager.
About DownEast
DownEast (http://www.downeastbasics.com), a leader in stylish and affordable apparel, home furnishings and accessories, believes that shopping should be a fun, guilt-free experience. Founded in 1991 and still family owned and operated, DownEast continues its goal of bringing customers the very best merchandise—from national brands to its own DownEast lines of home furnishings and DownEast Basics apparel—at the very best prices.
The fast-growing retailer operates nationally with its Basics line via its online store in addition to 58 locations throughout the West including in Utah, Colorado, California, Idaho, Arizona, Washington and Nevada.