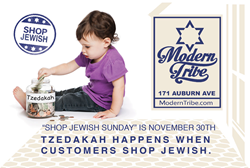 It gives ModernTribe great nachas (Yiddish for happiness and pride) to be able to donate to our community.
Atlanta, GA (PRWEB) November 18, 2014
When American Express® created Small Business Saturday, Jennie Rivlin Roberts, founder of Jewish gifts retailer, ModernTribe, appreciated the support for local and small businesses but was sad to be left out. Being a Jewish business, ModernTribe couldn't promote shopping on Saturdays, the Jewish Sabbath, on which shopping is traditionally prohibited. As an alternative, for Hanukkah, Rivlin Roberts began hosting "Shop Jewish Sunday" on ModernTribe.com with flash sales, giveaways, gifts with purchases, and Google+ video chats. To take its proper place among the infamous shopping days of Black Friday, Shop Small Saturday, and Cyber Monday, Shop Jewish Sunday occurs the Sunday following Thanksgiving.
This year, ModernTribe will host "Shop Jewish Sunday" in their brand new brick & mortar store located in Downtown Atlanta in the Sweet Auburn district.
Shoppers can:

Find Special Discounts on Hanukkah Goods
Try Free All-Natural Kosher Cotton Candy
Shop $1, $5, $10, $20, $50 Bargain Bins
Get a Bag-O-Schlock with Purchase, and,
Have Fun All Day 11am – 6pm
10% to Local Non-Profits
ModernTribe has a tradition of giving back. Through last year's Thanksgivukkah sales, ModernTribe was able to donate $20,000 to MAZON: A Jewish Response to Hunger, a national non-profit organization working to end hunger among people of all faiths and backgrounds. This year, ModernTribe has partnered with over a dozen local non-profits to promote shopping for their cause: when members or supporters shop at ModernTribe, 10% goes to their organization. People are encouraged to come out, especially, on Shop Jewish Sunday, where all shoppers will be asked to choose an organization to donate 10%.
"It gives ModernTribe great nachas (Yiddish for happiness and pride) to be able to donate to our community, " says Rivlin Roberts. "ModernTribe's mission is to help the new generation express and share our Jewishness and keep our traditions alive, meaningful, and fun."
Beneficiaries are Jewish and Sweet Auburn Non-Profits
Beneficiaries of the 10% give-back are Jewish organizations as well as non-profits located in and serving the Sweet Auburn district of Atlanta including StandUp for Kids, programs supporting homeless youth ages 13-25, and Trinity Community Ministries, a residential transitional program designed to serve homeless men. "Sweet Auburn is ModernTribe's home and we support our neighbors," says Rivlin Roberts.
A partial list of other beneficiaries are:
Atlanta Jewish Music Festival - With music as their inspiration, AJMF grows Jewish community and celebrates Jewish heritage through year-round live performances and dynamic learning programs for the Southeast region including their annual Spring Festival (March 2015, dates TBA).
Congregation Bet Haverim – A Reconstructionist synagogue founded by lesbians and gay men, embracing all Jews and loved ones.
Congregation Or Hadash - An egalitarian, Conservative congregation dedicated to providing a warm and welcoming Jewish environment in which to build spiritual and social connections through prayer, learning, music and Tikkun Olam. Or Hadash believes that a caring community is a Holy community.
Jewish Federation of Greater Atlanta - Creates opportunities to build a strong community and a better life for Jews at home, in Israel, and throughout the world. JFGA touches every aspect of local and global communities, values all kinds of support, and offers many exciting ways to get involved in the Jewish community.
Limmud Atlanta + SE - In Hebrew, Limmud means "learning" — and that's what it's about. Limmud is a community who creates spaces and places so that people can craft their own Jewish experience, explore their connection to Jewish ideas and tradition, and meet people who share their curiosity and enthusiasm.
PunkTorah - An online community helping people who have fallen through the cracks of Jewish life. PunkTorah's multimedia network spreads a message of love, inclusion and hope to thousands of people around the world.
Jewish Kids Groups - Atlanta's independent Hebrew school, is creating a brand new educational model. JKG is re-imagining Jewish education and community. JKG welcomes affiliated and unaffiliated families into a warm, immersive community that meets them where they are Jewishly and works for their busy lives.
Sojourn - The Southern Jewish Resource Network for Gender and Sexual Diversity (SOJOURN) promotes increased understanding, acceptance, and inclusion of individuals across the entire spectrum of gender and sexual orientation in the Southeast through education, outreach, and advocacy, inspired by Jewish and universal ethics and ideals.
Young Israel of Toco Hills - A Modern Orthodox congregation that focuses on three central values: robust, proactive involvement in the secular world, the religious significance of the State of Israel, and the pursuit to spiritual growth as manifested by the striving for increasing performance of mitzvot and the study of Torah.
Go to http://moderntribe.com/pages/locals for a full list and description of non-profit beneficiaries for 2014.
ModernTribe's store is located at 171 Auburn Avenue NE, Suite G, Atlanta, GA 30303 and is open daily from 11-6pm. Directions and parking information can be found on the website.
About ModernTribe
ModernTribe brings fresh, design-forward and trendy Jewish gifts and Judaica to the new Jewish generation online at ModernTribe.com (since 2007) and, since June of 2014, at its brick & mortar store in Atlanta, GA.