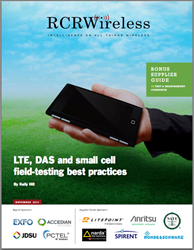 LTE field testing is undergoing a major shift as network traffic moves indoors and as analytics plays an ever-greater role. - Kelly Hill, RCR Wireless Editor
Austin, Texas (PRWEB) November 18, 2014
As mobile networks become more heterogeneous in order to support ever-increasing indoor and outdoor capacity needs, testing must take into consideration operators' infrastructure choices. In advanced wireless networks, that can include LTE macro sites, indoor or outdoor small cells, and distributed antenna systems (iDAS or oDAS) to suit the capacity and cost needs of the network at a particular site.
This latest report, 'LTE, DAS and Small Cell Field Testing Best Practices,' gives a general overview of the means and methods of testing these network technologies; major issues and challenges, including PIM; and special considerations that should be taken into account for each technology and indoor and outdoor implementations. The report also examines some of the major market drivers behind operators' infrastructure choices, an update on infrastructure spending and deployment, plus trends in the latest testing equipment. Featuring interviews with AT&T, JDSU, EXFO, Rohde & Schwarz, Ericsson, Nokia Networks, Accedian Networks, and more.
Download this report to learn:

An update on carrier infrastructure spending and network updates that are driving field testing
Challenges and trends in field testing needs and equipment
Latest developments shaping the available offerings in the market
Bonus: Supplier guide for field testing services
Watch the complimentary editorial webinar featuring:

Kelly Hill, Technology Reporter, RCR Wireless News
Emanuele Procaccioli, Senior Manager, Networks & Communications, Accenture
Bruno Giguère, Senior Advisor, CTO Office, EXFO
Paul Gowans, Mobile Marketing Lead, JDSU
Scott Sumner, Vice President of Solution Development, Accedian Networks
"LTE field testing is undergoing a major shift as network traffic moves indoors and as analytics plays an ever-greater role," said RCR Wireless News Technology Reporter Kelly Hill. "We're seeing more walk testing for DAS and small cells, more cloud-connected field testing equipment, and more reliance on network analytics to both inform and direct traditional field testing."
RCR garnered insight from experts across the industry, from network equipment and antenna vendors to carriers and field testing equipment manufacturers. One of the biggest challenges for field testing is how to manage the increased scale and cost as small cells start to be deployed. Mergers and acquisitions in the testing space reflect the fact that mobile operators and vendors hope to ultimately rely less on field testing and more on actionable intelligence coming from the network for site assessment, acceptance and trouble-shooting.
"You really have to try to infer as much as you can from the network itself," said Scott Sumner, VP of solution development for Accedian.
Download the report for free here.
About RCR Wireless News
Since 1982, RCR Wireless News has been providing wireless and mobile industry news, insights, and analysis to industry and enterprise professionals, decision makers, policy makers, analysts and investors. Our mission is to connect, globally and locally, mobile technology professionals and companies online, in person, and now on video. Our dedication to editorial excellence coupled with one of the industry's most comprehensive industry databases and digital networks leads readers and advertisers to consistently choose RCR Wireless News over other industry publications. http://www.rcrwireless.com