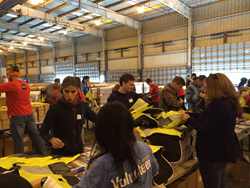 Suddath volunteers joined forces with many other local organizations to help assemble and deliver backpacks filled with toys and books to more than 100 children.
Jacksonville, FL (PRWEB) November 18, 2014
The Suddath Companies is proud to announce sponsorship of a "Visit from St. Nicholas" on behalf of HandsOn Jacksonville. Suddath® involvement included sponsorship of a full grade level, or about 100 children, providing hundreds of toys and books, a VIP table at the HandsOn Jacksonville Fifth Annual Holiday Benefit, as well as event volunteers this past Saturday, Nov. 15 and also on Friday, Dec. 5.
In order to prepare for the Dec. 5 event, Suddath volunteers joined forces with many other local organizations to help assemble and deliver the backpacks. "The ability to do this type of volunteer work, especially at this time of year, has a positive impact," said Melinda Byrnes, vice president, corporate marketing and business development, "not only on the children receiving these gifts but also on Suddath and our employees. To be able to give back through an organization such as HandsOn Jacksonville, consistently dedicated to volunteerism throughout Northeast Florida, is invaluable and we appreciate the opportunity."
About HandsOn Jacksonville
HandsOn Jacksonville is Northeast Florida's on-ramp for volunteering, with more than 39 years of history, and created of the volunteers, by the volunteers, and for the volunteers. Our mission is to inspire, equip and mobilize people to take action that changes the world. We connect people to their power to make a meaningful difference, by providing access to tools, resources and opportunities to help them use their time, talent, voice and money to meet the critical needs of our community.
http://www.handsonjacksonville.org
About The Suddath Companies
Established in 1919 and headquartered in Jacksonville, Fla., The Suddath Companies is a diversified group of domestic and international service companies. Its affiliates specialize in warehousing and logistics management, worldwide household goods relocation, office moving and workplace solutions, trade show and exhibit displays, and specialized transportation. http://www.suddath.com
Suddath operates moving and logistics facilities in the following 22 major markets across the United States: Atlanta; Charlotte, N.C.; Dallas/Fort Worth; Flagstaff, Ariz.; Ft. Lauderdale, Fla.; Houston; Jacksonville, Fla.; Los Angeles; Melbourne, Fla.; Miami; Milwaukee; Minneapolis/St. Paul; New York/New Jersey; Orlando, Fla.; Phoenix; Portland, Ore.; San Francisco/San Jose, Seattle; Tampa/St. Petersburg, Fla.; The Villages, Fla.; Tucson, Ariz.; Washington DC/Baltimore