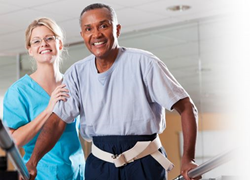 ... this study clearly demonstrated that the benefits provided by physical therapists remained significant for as long as patients were engaged in therapy.
Santa Rosa, CA (PRWEB) November 18, 2014
New research suggests that regular exercise and physical therapy (PT) may be of extra benefit to people with hip and knee arthritis. This latest 2-year study from New Zealand included 206 people with hip and knee osteoarthritis (OA) in a median age 66. After two years those patients who engaged in either regular exercise, manual therapy or a combination of both showed improvements that were notably superior to those of the second group who underwent only medical care for OA. It was noted that this study clearly demonstrated that the benefits of a comprehensive program of exercise therapy and/or manual therapy provided by physical therapists remained significant for as long as patients were engaged in therapy. Perhaps an obvious conclusion to make, but significant for those patients who continue to improve their well-being thanks to the help of physical therapy.
What is Physical Therapy?
Physical therapy treatments may include a combination of manual therapy, exercise, postural and ergonomic education, as well as other modalities such as ultrasound, electric stimulation, paraffin, moist heat and ice. Typical goals of treatment include increasing flexibility and strength, improving gait and balance, and decreasing pain - all in an effort to return patients to full function.
In addition to helping improve the conditions associated with osteoarthritis, physical therapists can also help to make life better for patients with chronic or ongoing health conditions such as spinal stenosis, other types of arthritis and chronic conditions such as Parkinson's disease.
Depending on the condition, a physical therapist will design a unique program of education, strengthening and endurance, and range-of-motion exercises aimed at meeting each patient's unique needs. The Physical Therapy team at Santa Rosa Orthopaedics also specializes in post-operative care for patients who have undergone knee and shoulder surgery.
Commonly Treated Conditions
Physical therapists work closely with physicians to ensure effective rehabilitation of post-surgical patients of all ages. They are able to evaluate and treat a wide range of musculoskeletal dysfunctions including;

acute injuries
degenerative conditions
back and neck injuries
sprains, strains, and fractures
arthritis
amputations
Neurological disorders (stroke or cerebral palsy, etc.)
injuries related to work and sports
PT's are able to diagnose patients' movements through observation of how they stand or walk and by carefully listening to a patient's story and concerns. They may recommend specific exercises, stretching maneuvers, hands-on therapy and the use of specialized equipment to ease patients' pain and discomfort and to increase mobility and prevent further pain or injury. They also work to educate patients and their families about the recovery process.
Manual Therapy
Manual therapy or bodywork used by physical therapists is a treatment performed using the hands with the end goal being relaxation, reduction of pain and improved flexibility. Examples include massage, mobilization (slow, measured movements used to work bones and joints into position to improve flexibility and alignment) and manipulation (pressure applied to a joint via the hands or a special device).
Hand Therapy
The SRO Sports Medicine and Rehabilitation Center also offers the expertise of occupational therapists that specialize in treating everything from carpal tunnel syndrome to complex post-surgical cases. They are also able to fabricate specialized splints designed to protect muscles, tendons, and joints.
The Sports Medicine and Rehabilitation Center at Santa Rosa Orthopaedics staffs physical and occupational therapists that are experienced clinical professionals who are passionate about providing quality care for their patients. They work closely as a team of healthcare professionals to ensure continuity in treatment and a positive, supportive environment for rehabilitation. For more information visit our website or call 707-546-1922.