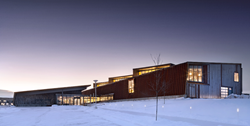 "Pearl Izumi wanted its building to have "a connection to the outdoors and a conversation about being of the land, not just on it," says Arch11 principal E.J. Meade.
Boulder, CO (PRWEB) November 18, 2014
Boulder/Denver architecture firm Arch11 has won 2014 Design and Honor awards from AIA Colorado, AIA Denver and AIA Portland, Ore., for its design collaboration with Portland-based ZGF Architects for Pearl Izumi's North American Corporate Headquarters in Louisville, Colo. During the recent awards presentation at the annual AIA Practice and Design Conference in Keystone, Colo., Arch11 received an AIA Colorado Honor Award and an AIA Denver Merit Award for the new building. Engineering News Record also recognized the project with a Mountain States Best Projects Merit Award. The additional Citation Award from AIA Portland came in a November ceremony there.
Like its outdoor-loving, athletic customers, Pearl Izumi envisioned an equally high-performing work environment for its employees to support its longtime goal of developing the world's "foremost line of technical- performing and quality manufactured sports apparel." The design of its North American headquarters, a collaboration between Arch11 and ZGF Architects, was a demonstration in artfully integrating complex programmatic elements within a new 54,000-square-foot energy-efficient structure.
The Pearl Izumi headquarters workspace features open and transparent offices along with shared amenities that include a fitness room, a living room, collaboration spaces, break areas, bike room, locker rooms, a protected courtyard, porches and an outdoor amphitheater. By limiting vertical separation between spaces the design naturally encourages interdepartmental exchange.
With an emphasis on research and development, prototyping and testing, and committed to the ideal of exercising outside – 365 days a year in any conditions – Pearl Izumi wanted its building to have "a connection to the outdoors and a conversation about being of the land, not just on it," says Arch11 principal E.J. Meade. The building reconstructs the hillside on which it is sited. With immediate access to recreation trails and dramatic views of the area's famed Flatirons, the elongated floor plan is oriented outward so "wherever you are, you have a view to the landscape," explains Meade. Large window apertures pop up along the sweeping roof form and provide abundant natural light deep into interior spaces along with a seasonally-changing backdrop of sky and earth.
To pay homage to the site's agrarian roots, the architects selected a minimal palette of natural weathering steel, concrete, glass and recycled snow fence for cladding. As a result, the low-slung building appears to organically emerge from the ground plane and follow the gentle topography of its Colorado site. For ease of construction and improved energy performance, SIPS panels within a steel frame were used to construct the exterior envelope.
The AIA jury praised the project's "stark simplicity and design restraint that led to a building that projects a strong vision that is carried from landscape to the interior finishes." They also acknowledged the "architect's ability to compose form and manipulate light in beautiful ways that still express the energy of the client and the products they produce."
About Arch11:
Founded in 1993, Arch11 has gained recognition for projects ranging from exceptional residences to institutional planning, mixed-use development and product design, including a 2009 Firm of the Year Award from the Colorado AIA North chapter. With offices in Boulder and Denver, Colo., Arch11 has 30 combined years of green building technology leadership. The staff's unusual level of hands-on experience ranges from boat building to furniture making, contributing to its reputation for commitment to craft, detailing and design integrity. For additional information visit http://www.arch11.com.
Contact:
Darla Worden, WordenGroup Strategic Public Relations, darla(at)wordenpr(dot).com