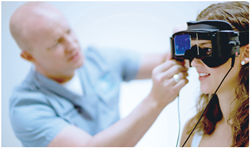 "I can't wait to go back and I thank God for sending Move2Improve and making it possible", said Autumn Hampton.
Dallas, Texas (PRWEB) November 18, 2014
The Carrick Brain Centers (http://carrickbraincenters.com), a cutting-edge rehabilitation facility that provides highly effective treatments for those suffering from severe brain injuries, announced a partnership with the Move2Improve Foundation (http://m2i.org). Together the organizations aim to raise $250,000 in crowd source funding for 21 year old Autumn Hampton, a young woman who suffered a Traumatic Brain Injury (TBI) in 2010. The money raised in this effort will allow Autumn to receive the treatment that she needs to improve her quality of life.
Three weeks before her 18th birthday, Autumn Hampton suffered a severe head injury due to a fluke horse riding accident. After three years of marginal rehabilitation services, the Hampton's insurance coverage was cancelled, leaving Autumn unable to walk or speak clearly with no options for therapy. Thanks to the support of Move2Improve, Autumn underwent three weeks of intense rehabilitation at the Carrick Brain Center in Dallas, Texas during September of this year. Autumn is now walking short distances and is able to see clearly with both eyes for the first time in four years.
"We are very pleased with Autumn's progress and excited to partner with M2I in order to make her recovery a reality," said Dr. Andre Fredieu, Medical Director of the Carrick Brain Centers. "She still has a long road ahead of her but with continued care and the help of Move2Improve and their generous supporters, a normal and productive life is within Autumn's grasp." (http://www.m2i.org/autumn-hampton/)
"I'm excited to work with this courageous young woman because she's a fighter like me," said M2I founder and TBI survivor himself, Sean Entin. "When you combine her will to heal with the cutting edge therapeutic techniques of the Carrick Brain Center amazing things can happen, and I'm living proof. We just need a little help from donors willing to support her cause in order to continue her recovery."
Click here to learn more and donate:
https://www.youtube.com/watch?v=Bm_CRVYf79E&index=2&list=UUwDAkc0ggHnroWO7-SaS5QA
About the Carrick Brain Center
Carrick Brain Centers is a multidisciplinary brain rehabilitation center that combines evidence-based diagnostics with leading-edge technologies and treatments to quickly help improve the quality of life of patients suffering from brain injuries due to physical or emotional trauma or degenerative conditions that affect the brain and central nervous system.
About Move2Improve
The Move2Improve Foundation, a registered 501(c)(3) non-profit organization, was established to help those who have suffered Acquired and Traumatic Brain Injuries. They are here to engage patients in cutting edge therapies and finance rehabilitation for the underinsured. The goal is to help recipients regain mobility and cognitive skills, provide support for their family and friends and make them movers once again.