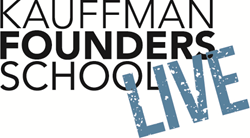 KANSAS CITY, Mo. (PRWEB) November 18, 2014
It's common for entrepreneurs to regularly practice their pitch over and over. However, the question-and-answer session that follows the pitch is just as important — if not more so — but rarely gets any attention.
Until now.
Kauffman Founders School Live is offering "Q&A: Mastering the Unpredictable" a free, livestreamed presentation on Nov. 19, 2014, at 4:30 p.m. EST at http://www.entrepreneurship.org/KFSLive. It is being held as part of Global Entrepreneurship Week, the one week each November in which thousands of events around the world inspire millions to entrepreneurship.
"Q&A: Mastering the Unpredictable" will be led by Nathan Gold, an internationally known presentation and pitch coach. He will teach participants how to answer questions more effectively, especially the most difficult ones, including how best to respond when there's not a prepared answer. Attendees will learn several techniques to make question-and-answer sessions more memorable and to effectively build on the strength and credibility established during their presentations.
"As presenters become more aware of what they're doing or could be doing during a Q&A session, the more they are seen as persuasive, credible and likable," Gold said. "If you want to learn how to answer any question you're ever asked, this workshop will give you the tools."
Gold founded The Demo Coach in 2000, has personally given more than 15,000 presentations during his career and has delivered more than 10,000 hours of coaching. He is a frequent pitch and presentation coach for the Kauffman Foundation, IBM Smartcamp, The Wall Street Journal Accelerators, Innovation Norway, Citrix Startup Accelerator, DEMO, TechCrunch and Inc. magazine. In addition, he also teaches at the University of California-Berkeley's Center for Entrepreneurship & Technology Bootcamp and for its Engineering Leadership Professional Program.
Kauffman Founders School teaches entrepreneurs best practices in areas not typically covered in other training programs; enables entrepreneurs to learn anywhere, anytime; and allows entrepreneurs to immediately apply these lessons to their businesses. The online education program is housed on the Kauffman Foundation's Entrepreneurship.org web platform, which offers resources, educational information and tools for entrepreneurs. It can be accessed at http://www.KauffmanFoundersSchool.org or via http://www.Entrepreneurship.org.