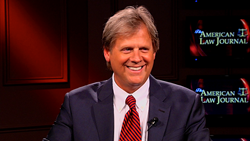 Philadelphia, PA (PRWEB) November 18, 2014
Tomorrow in Philadelphia, Federal Judge Hon. Anita Brody will preside over a "Fairness Hearing" regarding the NFL Concussion Settlement. On the television program The American Law Journal that aired on Monday, November 17, 2014 on the Philadelphia CNN-News affiliate WFMZ-TV a panel of attorneys and sports experts discussed how  opposing plaintiffs' groups differ greatly on the covered health issues, who is eligible, and amount of monetary relief. 
A key sticking point is the lack of coverage for players with Chronic Traumatic Encephalopathy (CTE) which can be detected only after death according to Boston Neurosurgeon Robert Stern.
The American Law Journal Host Christopher Naughton welcomes guests Saranac Hale Spencer, staff writer for The Legal Intelligencer; plaintiff's attorney and professional athlete's representative Steve Olenick of New York's Kantor Davidoff; and Patrick Hruby, former Georgetown University professor and Contributing Editor of Vice Sports. Gina Passarella, senior staff writer for The Legal Intelligencer, interviews former NFL player Chad Levitt in an opening feature report.
The American Law Journal, is now in its 25th season of broadcasting on the CNN-News affiliate for Philadelphia, WFMZ-TV 69 to Pennsylvania, New Jersey and Delaware. Airing Monday nights at 7:00 pm from October to Memorial Day the program is also available on http://www.YouTube.com/LawJournalTV. For over the air channels (HD, satellite) see http://bit.ly/ALJchannels.
The American Law Journal is the weekly talk-feature program hosted by former New Jersey prosecutor and trial attorney Christopher Naughton. It airs Monday nights at 7:00 p.m. on the CNN- News affiliate in Philadelphia, WFMZ-TV to Pennsylvania, New Jersey, Delaware and online.
The program discusses consumer, business and Constitutional issues with attorneys, law professors, judges, elected officials and others to shed light on current legal news and how the system impacts the everyday lives of citizens. Programs are live or taped in studio and on location in and around Philadelphia. For information, schedules and more, visit LawJournalTV.com. Archived programs can be viewed on YouTube,http://www.YouTube.com/LawJournalTV