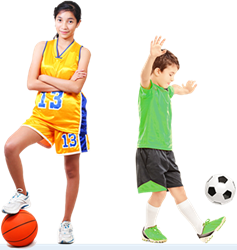 Most organized sports-related injuries occur during practice. | John Hopkins Health Library.
Boise, Idaho (PRWEB) November 19, 2014
LifeSource Direct, an online insurance provider, announced today the release of another innovative "1 click" online insurance product. The Sports and Hobby Protection accidental expense policy is now available on the LifeSource Direct website providing a full "quote to purchase" internet experience. In keeping with LifeSource's direct to consumer approach, consumers can easily quote and purchase online in a quick and simple way. The "Sports and Hobby Protection" insurance product appeals to those who have very active family members or participate in recreational sports.
With fall sports in full swing and weekend warriors pushing their limits, the need for an accident policy that can be easily issued provides supplemental coverage for the uninsured or those with higher deductibles medical plans. Student athletes are pushing harder and farther, and the number of student athletes injured each year is steadily on the rise (see Journal of Athletic Training) . Statically, the University of Rochester Medical Center reported that:

More than 30 million high school children participate in organized sports.
Children between 5 and 14 years of age account for almost half (40 percent) of sports-related injuries for all age groups.
More than 775,000 children participating in sports activities are injured each year, and one in four injuries is considered serious.
Children who are less developed than a more mature child of the same age and weight are at increased risk for injury.
Sports-related injury severity increases with age.
Before puberty, girls suffer more sports injuries than boys.
During puberty, boys suffer more injuries more severely than girls.
Children who are just beginning a sport or activity are at greater risk for injury.
These types of injuries can create a financial burden on a family, especially if treatment is comprised for lack of funds. Further statics can be found at John Hopkins Medicine.
In addition, adult Americans are becoming much more active in a variety of sports that unfortunately are associated with a higher risk of accident (see CDC - http://www.cdc.gov/ncipc/pub-res/research_agenda/05_sports.htm). From hitting the ski slopes, mountain biking, road biking, or just hiking, accidents can and do happen. Having protection that pays directly to the insured makes up for gaps not covered in medical plans.
LifeSource Direct online approach has made access to financial products online simple in order to protect personal finances in the event of an unforeseen accident. The exclusion of medical exams, tests, and personal meetings with an insurance salesman gives the consumer the choice of transacting a variety of insurance products online, from quote to purchase. LifeSource Direct enables the online purchase by allowing the client to answering a few questions and fill out an online application. A policy can be issued in a matter of minutes.
About LifeSource Direct
LifeSource Direct (http://lifesourcedirect.com) was formed to create a dynamic, state of the art, direct sales life insurance company backed by an experienced and professional staff.
Incorporating the latest cutting edge technology with one of the best consumer support staffs in the industry assures a simple and easy process for purchasing life insurance. LifeSource Direct works with top rated insurance carriers including Prudential, SBLI, RBC, Banner Life, MetLife, Lincoln, Nacolah, Transamerica, ING and Genworth Financial.
LifeSource Direct now works with thousands of people every year to find them the right life insurance at the right price.