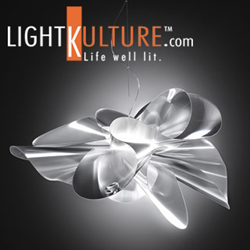 I am very impressed with their playful new assortment now available in the US.
New York, NY (PRWEB) November 19, 2014
LightKulture.com is pleased to offer innovative contemporary Italian lighting from SLAMP. "I have watched the SLAMP product line evolve over the years I have visited their exhibit in Milan. I am very impressed with their playful new assortment now available in the US", noted Susan Inderbinen President of LightKulture.com. SLAMP was created in 1994 by Robert Ziliani to offer high quality lamps with a combination of an artist eye for details and excellent industrial production. The quality of light and ingenious design are the result of innovative and patented materials, such as Opalflex that are unique and immediately recognizable. Opalflex, patented in 1993, is a mixture of technopolymers and glass crystals which is unbreakable, bright and versatile. The success of SLAMP is in its DNA, curiosity for new materials and experimentation and trust in one's instincts, but also through futuristic engineering solutions.
The design team consists of young, creative minds of designers such as Alessandro Mendini, Aldo Cibic, Riccardo Dalisi, Jorge Garro and Bruno Munari, along with Robert Ziliani, who produce original exclusive designs within everyones reach. New experimentation with Swarovski crystals and leather started to take shape between 2000 and 2005. During this same time period, Cristalflex is patented: a see-through, shiny and lightweight material that is still the base material of many of the products today. After meeting Nigel Coates in 2006, the first collaboration with Swarovski Crystal Palace results in more three-dimensional shapes. In 2013 superstar architect Zaha Hadid designed 2 collections for SLAMP, Aria and Avia. Some of the patented materials used in SLAMP are Morphing Effect which gives three dimensional visual effects, Lentifle, which acts as a Fresnel lens, Iridescent Polarization which reflects color according the angle of incidence, Digit Printing which creates a pearl effect, Galvanic treatments result in a perfectly polished, shiny and precious product, and Steelflex which results in a perfectly reflecting mirrored surfaces.
For more information go to
SLAMP - http://www.lightkulture.com/brands/SLAMP.html
SLAMP, Innovative Contemporary Italian Lighting, Now available at LightKulture.com
"SLAMP has always been one of the stand-out lighting brands at every European fair I have ever attended. The flexible, colorful, lightweight material used in every SLAMP product, brings contemporary style to every environment. There is as much science as their is art in the design evolution of each product. SLAMP offers accessible style at every budget. Surprisingly the brand is very affordable considering the quality of the materials used and the creative attention to design. Not only is SLAMP an innovating trend setter in design and materials, they are also environmentally conscious. The materials used in the manufacturing of SLAMP are completely recyclable and reusable. The product can be washed, is shock resistant, ensuring excellent longevity. All raw materials; from technopolymers to packing materials are used in accordance with the international standard of environmental protection. Lighting from Slamp adds a fun, color touch to any room in your home, office, retail or hospitality space" noted Susan.
About LightKulture.com
At LightKulture.com, our mission is to offer the finest energy efficient contemporary lighting and light fixtures from around the world. We have assembled an exciting collection of the industries most innovative decorative and architectural lighting.We are proud to offer lighting solutions for both your home and work-life environments. Simplicity is design is complicated, function makes it last. Be inspired by our range of essential designs from well respected American and European manufacturers. In today's world, energy efficient lighting is as important as eco-friendly or green lighting fixtures, such as LED or CFL lighting. We offer the very best energy efficient lighting and light fixtures, both high value LED lighting fixtures and CFL lighting fixtures in modern and contemporary styles that provide quality, innovation and authenticity.
LightKulture
http://www.lightkulture.com/
Email. sales(at)lightkulture(dot)com
Tel. 941-330-0422