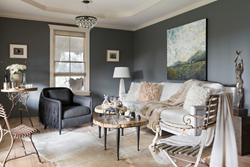 San Francisco, CA (PRWEB) November 18, 2014
Inspiration struck the Tiburon-Belvedere, California based designer during her first tour of the Traditional Home Napa Showhouse when she encountered Buckley, the Caldwell Vineyard's farmhouse dog. Buckley's room of choice for afternoon naps is the living room, curling up in patches of sun and greeting visitors as they come through the front door. Cathleen chose to honor Buckley and his beloved room by designing a space that evokes the rustic beauty of the Napa Valley while seamlessly incorporating luxe custom details. With a fresh, original approach, the designer brings in French antique garden furniture, custom handmade organic wood elements, and luxurious handwoven fabrics to create her Showhouse space.
The living room is a study of organic textures, ranging from smooth high-end satin to hand scraped wood. To create a decadent backdrop ideal for showcasing an impressive collection of art, the designer applied "Jailhouse Rock," a rich charcoal hue by C2 paints to the walls. She also worked with master craftsmen from Rode Brothers Artisan Floors to install French white oak flooring, hand scraped to mimic Buckley's marks on the original floors and chiseled under Cathleen's direction. To make the most of a narrow entrance to the dining room, Cathleen envisioned an original barn door slider with an organic live edged slab of elm, working with Urban Lumber's Seth Filippo and Real Sliding Door Hardware to marry industrial inspiration with luxury design.
With the basic design elements in place, Cathleen layered in furnishings and accessories that truly make her living room a bespoke interior. Custom hand blown pear pendants produced by Ochre Studio lend subtle lighting, and highlight the room's impressive sculpture collection, including a bronze entitled "Falling Snow" by Gail Folwell, a sculpture by Dee Briggs, and a salvaged steel and claro walnut pedestal by artist Michael Danielson from Aerena Galleries. Textural earthenware and handmade ceramic pottery by artist Michael Smolcich speak to a connection with the land, and a cowhide rug from McGuire adds warmth. Paintings, including "The Barns" by Allison Haley Paul and dog portraits by Laura Adler and Pam Sheehan of the Paul Thiebaud Gallery, are the perfect finishing touch.
Other details in the space include the swanky leather McGuire Guernica chair, custom nesting tables from Sloane Miyasato, custom Tessera and Shinjuku metallic side tables by Tuell and Reynolds in Cloverdale, and a one-of-a-kind bench made by Urban Lumber from sunken lumber timbers. The space is fully appointed with a collection of luxe vintage antiques and artifacts from Ma(i)sonry, Aerena Galleries, Anthem San Francisco, and the Cathleen Gouveia Design Private Collection.