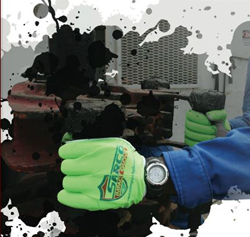 We recognized that to better manage and accelerate growth we needed better technology.
New York, NY (PRWEB) November 18, 2014
Simparel, Inc. (http://www.simparel.com), a leading developer and marketer of next-generation business solutions for fashion and consumer goods brands, manufacturers and vertical retailers, announces that Southern Glove Inc. has begun implementation of the Simparel® Enterprise software solution at its Newton, North Carolina headquarters and Honduras-based manufacturing operations. By replacing its legacy system and other software tools with the fully integrated business solution, the manufacturer of industrial gloves, aprons, sleeves and other safety and protective gear expects to gain greater visibility and control over its design-to-delivery product lifecycle and streamline processes to support rapid growth.
"We recognized that to better manage and accelerate growth we needed better technology", noted Brent Fidler, President and CEO, Southern Glove. , "After evaluating several systems, we found in Simparel a modern and well thought-out solution that we believe can support our current and future needs and growth. We were also impressed with how the Simparel team understood our business needs and their straightforward approach to working together to achieve business solutions."
Southern Glove teams will utilize the natively-integrated Enterprise Resource Planning (ERP), Product Lifecycle Management (PLM), Manufacturing Resource Planning (MRP), Supply Chain Management (SCM), and Warehouse Management (WMS) toolset in Simparel to gain visibility and control over order management, production workflow, inventory control, shipping and logistics, and other critical business processes.
"We are pleased with the opportunity to partner with Southern Glove," added Simparel SVP Sales and Marketing John Robinson. "We applaud their commitment to providing their teams with the technology they need to make faster, better informed decisions throughout the business that will support greater profitability and continued growth. We look forward to a long and mutually beneficial business partnership."
About Southern Glove
Headquartered in Newton, North Carolina since 1945, Southern Glove is an American-owned manufacturer of industrial work gloves, aprons, sleeves and safety and protective products. Owned by the same family who founded the company in 1945, it has operated manufacturing in Honduras since 1997. Southern Glove products are available exclusively through a national network of authorized glove distributors throughout the United States. The company also carries an extensive inventory of products located at its Newton, NC warehouse. For more information, visit http://www.southernglove.com.
About Simparel
Designed for the apparel, footwear, accessories, home furnishings and other soft goods industries, Simparel empowers brands, manufacturers and vertical retailers to reach their full potential by accelerating and improving performance across the entire business and global supply chain. The Simparel Enterprise Solution provides global process visibility, control and collaboration by combining traditionally independent Product Lifecycle Management (PLM), Sourcing & Supply Chain Management (SCM), Materials Requirements and Manufacturing Planning (MRP), Electronic Data Interchange (EDI), Warehouse Management (WMS) and other productivity tools into a single, fashion-focused business system.
The fully integrated end-to-end functionality of Simparel keeps teams and vendors working on the same page. Real-time visibility into product development, orders, inventories, production and supply chain processes enables users to make more informed decisions - faster - across the entire business. The next-generation Simparel software architecture is simpler to deploy and offers greater scalability, performance and total cost of ownership than traditional enterprise solutions. Clients routinely report cost reductions and increased agility and responsiveness across their product development, sourcing, manufacturing, distribution and other business processes with Simparel.For more information, visit http://www.simparel.com.
Simparel is a registered trademark of Simparel, Inc.