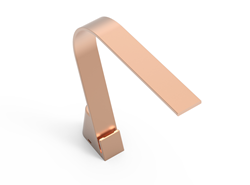 Santa Barbara, CA (PRWEB) November 18, 2014
Mighty Bright, designer and manufacturer of innovative LED lighting products, is pleased to announce the Brooklyn LED Task Light has won a Bronze Spark Design Award. Spark Design Awards are dedicated to recognizing designs that make the world a better place. The judging for the eighth Spark Awards concluded in early November, after Spark Design Award juries evaluated designs from 27 countries. The new LUX Brooklyn LED Task Light received the Bronze Award in the Product Design category, and will be exhibited at the Spark Awards Pavilion at the China International Industrial Design Fair, November 28-Dec 2 in Shenzhen. The Brooklyn will also be shown at Spark's Autodesk Gallery in San Francisco in February 2015.
"We are delighted the Brooklyn has won its first design award," said Michelle Haas, Mighty Bright Marketing Manager. "This award represents Mighty Bright's enthusiastic commitment to design excellence and inspires us to continue to develop unique, progressive lights." The LUX Brooklyn LED Task Light is a streamlined and modern, yet utilitarian, task light. Utilizing revolutionary LED panel technology, the Brooklyn incorporates USB ports and an integrated device holder for a light that doubles as an innovative and essential charging station. The touch-activated Brooklyn has an adjustable dimmer for maximum illumination flexibility.
About Mighty Bright
Behind every LUX LED Light you'll find Mighty Bright, designers and manufacturers of high quality LED lights. Since 1985, Mighty Bright has blended ease of use and affordability with impressive functionality, durability and portability. Our LED lights make reading, writing, working, and day-to-day life easier.
We have taken our years of LED expertise and applied them to the LUX line to produce the most fashionable and energy-efficient LED lights for home and office on the market. And since LEDs provide thousands of hours of light, each purchase of a LUX Light is earth friendly. Contact Mighty Bright: 800.922.3233 or visit http://www.lux-led-lights.com.