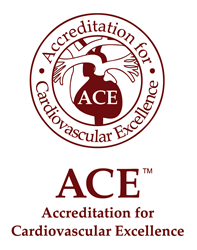 "We are very proud of our ACE accreditation for our cardiac cath lab. This certification confirms Mount Nittany Health's commitment to providing high-quality cardiac care..." -- Albert Zoda, MD, Mount Nittany Physician Group
Washington, DC (PRWEB) November 18, 2014
ACE is proud to announce that four new Pennsylvania facilities have received accreditation for percutaneous coronary intervention (PCI) services. To receive PCI accreditation, facilities without onsite open-heart surgery must meet the highest standards of PCI care as defined both by ACE and the Commonwealth of Pennsylvania.
Joining UPMC East, the latest facilities to receive ACE accreditation for PCI include:

Armstrong County Memorial Hospital (ACMH) in Kittanning, PA
Monongahela Valley Hospital in Monongahela, PA
Mount Nittany Medical Center in State College, PA
UPMC McKeesport in McKeesport, PA
"We are very proud of our ACE accreditation for our cardiac cath lab. This certification confirms Mount Nittany Health's commitment to providing high-quality cardiac care locally to keep our patients healthy," said Albert Zoda, MD, FACC, Cardiologist, Mount Nittany Physician Group.
In January 2014, the Pennsylvania Department of Health mandated that cardiac catheterization laboratories wishing to provide elective PCI services without onsite open-heart surgery at their facilities must be accredited by an approved accrediting organization with standards at least equal to those of ACE. Since becoming the first accrediting organization recognized by the Commonwealth, ACE has been leading the way by providing expert guidance on implementing the highest standards of quality care in the cardiac catheterization lab.
In August, UPMC East was the first facility to go through a special application and review process to achieve ACE accreditation. The latest round of accreditations brings the total number of cardiac catheterization labs to achieve ACE accreditation under the Commonwealth's new rules to five. Several additional facilities are now working through the final stages of ACE accreditation, reflecting the growing role of ACE as the standard-bearer for interventional cardiology quality in Pennsylvania.
The Mount Nittany Medical Center has also received ACE accreditation for diagnostic cardiac catheterization (CC) services. Other Pennsylvania facilities with ACE accreditation for PCI and CC and onsite open-heart surgery capabilities include Excela Health in Greensburg, Forbes Regional Hospital in Monroeville, and the Chester County Hospital and Health System in West Chester.
About Accreditation for Cardiovascular Excellence (ACE)
ACE is the global leader in accreditation and external quality review services for all catheter-based cardiovascular procedures. ACE, an independent organization sponsored by the Society for Cardiovascular Angiography and Interventions (SCAI) and the American College of Cardiology Foundation (ACCF), offers independent evaluation and monitoring of facilities that provide cardiovascular care. By reviewing facility and operator performance and comparing clinical decision-making to nationally accepted best practices, ACE quality review and accreditation services play a critical role in continuous quality improvement programs. Join us. Let us exceed your expectations and provide a free consultation. Contact ACE at info(at)cvexcel(dot)org or call our office at 202.657.6859 or visit our website at http://www.cvexcel.org.