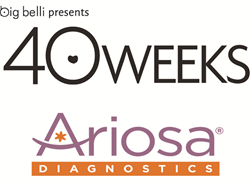 NEW YORK, NY (PRWEB) November 19, 2014
Ariosa Diagnostics, maker of the non-invasive Harmony™ Prenatal Test, today announced its collaboration with Big Belli, an industry leading video resource for expecting families, to produce 40 Weeks, the first unscripted documentary film of its kind, offering an intimate look into the week-by-week journey of pregnant women across the United States. Big Belli is on a mission to empower and educate expectant mothers to help them have the healthiest, most informed pregnancy possible, a mission shared by Ariosa, whose Harmony test provides a DNA-based risk assessment for common genetic conditions, including Down syndrome.
"We are committed to offering any pregnant women, regardless of age or risk factors, a non-invasive, highly accurate and affordable prenatal test for common genetic conditions," said Dr. Adam Wolfberg, Associate Director of Medical Affairs at Ariosa. "We are thrilled to be part of this shared vision, with Big Belli, to shed light on important prenatal topics and celebrate the many wonders surrounding pregnancy and childbirth."
Directed by Christopher Henze, 40 Weeks offers viewers an intimate look at the week-by-week journey of a diverse group of pregnant women across the country, examining topics including prenatal screenings and non-invasive prenatal tests (NIPT), sonograms, fetal development, risk factors, nutrition, preparations for childbirth, single and same-sex parenting, breastfeeding, and more.
"40 Weeks was inspired by my first pregnancy and many of the choices I made about my own prenatal care, some of which I had considered ahead of time and some of which I had not," said Big Belli CEO Dominique Debroux. "Prenatal screenings were part of that process and one of the areas where we wanted to use the film to help women make educated and informed decisions as they navigate through pregnancy."
Harmony is a non-invasive, more accurate alternative to traditional prenatal blood screening tests, validated by the largest clinical data set of its kind and supported by clinical studies in more than 22,000 women of all ages and risk categories. With a simple blood draw, Harmony provides crucial fetal information about chromosomal conditions as early as 10 weeks. Current prenatal screening tests return false positive results in as many as 1 in 20 tests. In comparison, the Harmony test correctly identifies greater than 99 percent of Trisomy 21 (Down Syndrome) pregnancies tested and returns false positive results less than 0.1% of the time, potentially lowering the need for certain invasive procedures such as amniocentesis. The Harmony test equips pregnant women and their healthcare providers with reliable information to make decisions regarding their health, without creating unnecessary stress or anxiety.
40 Weeks will premiere on December 1st at the famed Angelika Film Center in New York City and will subsequently premiere in nine additional cities through January 2015. For more information about 40 Weeks, including screening locations, dates and times, please visit: https://www.40weeksthemovie.com/.
About Ariosa Diagnostics
Ariosa Diagnostics, Inc. is a leading global molecular diagnostics company committed to improving overall patient care by developing and delivering innovative, affordable, and widely-accessible testing. Tests are fully validated by rigorous and comprehensive methodologies, to ensure health care practitioners and patients can be confident in the test's performance. Ariosa has developed leading-edge technologies to perform a directed analysis of cell-free DNA in blood. The company is headquartered in San Jose, California. For more information, visit http://www.ariosadx.com.
About Big Belli:
Big Belli is a parenting content media and social networking brand committed to the health and well-being of babies and mothers. For expectant families Big Belli provides an emotional connection, easily digestible pregnancy information, in film form, and a community of people who can share experiences and expert advice. With its first offering of the documentary 40 Weeks, Big Belli is on its ways to providing moms-to-be with a comforting place to turn to during this joyous, yet stressful time in their lives. 40 Weeks the movie is not affiliated with the Maryland marketing consulting company Forty Weeks LLC.