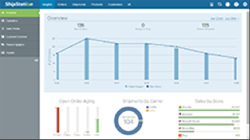 Austin, TX (PRWEB) November 20, 2014
Today ShipStation, the leading web-based e-commerce shipping solution, announced an integration with FedEx One Rate®, a simple, flat rate pricing option for FedEx Express® package shipping within the U.S.
ShipStation customers will now be able to take advantage of simplified shipping with FedEx One Rate® and use ShipStation's automation features to eliminate even more of the guesswork of order fulfillment.
"With its simple, predictable pricing, FedEx One Rate® takes convenience and flexibility to the next level for our customers," said Raj Subramaniam, executive vice president of Marketing at FedEx Services. "FedEx One Rate pricing allows customers to plan and control their express shipping costs more easily."
FedEx One Rate® enables online retailers to:

Determine delivery time-frame. FedEx One Rate® shipping is available with one-, two- or three-day U.S. domestic FedEx Express time-definite shipping commitments.
Simplify shipping with two weight options: FedEx® Envelope shipments of 10 pounds or less, and FedEx® pak, tube and box shipments of 50 pounds or less.
Include declared value up to $100 for no extra charge.
Simplify pricing. Three zones allow customers to take advantage of a simply-priced option for the shipping distance.
"We are thrilled to offer our customers another way to save money on their shipping costs," notes ShipStation's VP of Marketing, Robert Gilbreath. "By integrating with FedEx One Rate®, not only will our customers save money, but they will be able to do so easily using ShipStation's software. This directly ties in to our mission to make every seller, wherever they sell and however they ship, exceptionally efficient at fulfilling orders."
About ShipStation
ShipStation is the leading web-based shipping software that is built to help online retailers organize and process their orders, while fulfilling and shipping them quickly and easily. With automatic order importing from over 50 shopping carts and marketplaces, including eBay, Amazon, Shopify, Bigcommerce, Volusion, 3dCart ChannelAdvisor, and more, and automation features like custom hierarchical rules and product profiles, ShipStation helps online retailers ship out their orders from wherever they sell, however they ship. For more information, visit http://www.shipstation.com.
About FedEx Corp.
FedEx Corp. provides customers and businesses worldwide with a broad portfolio of transportation, e-commerce and business services. With annual revenues of $45 billion, the company offers integrated business applications through operating companies competing collectively and managed collaboratively, under the respected FedEx brand. Consistently ranked among the world's most admired and trusted employers, FedEx inspires its more than 300,000 team members to remain "absolutely, positively" focused on safety, the highest ethical and professional standards and the needs of their customers and communities. For more information about FedEx One Rate®, go to fedex.com/onerate