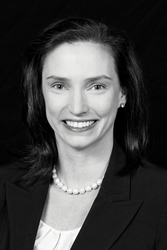 I have always enjoyed the ability to connect my work with helping others.
Atlanta, GA (PRWEB) November 18, 2014
Elizabeth Snyder has joined SignatureFD, a leading privately held financial design and advisory firm headquartered in Atlanta, as a principal. Snyder is a leading expert in investment management, estate planning, philanthropy and financial advisory services. In her new role, she will work with individuals and families to provide tailored solutions designed to meet their unique financial goals, including their desire to give back and leave a meaningful legacy. She will also work with endowments and foundations.
Prior to joining SignatureFD, Snyder worked for several of the country's leading wealth management and family office firms, including GenSpring Family Offices and Wilmington Trust. She is a recognized expert on philanthropy and family governance and has delivered presentations on these topics to the Private Wealth Management Summit and the Institute for Private Investors. She has also shared her expertise on legacy planning, charitable giving and investing with Private Wealth, Financial Advisor, InvestmentNews, Atlanta Business Chronicle and other publications. In addition, she was a member of the inaugural class of the Philanthropic Advisors Leadership Institute of Atlanta and a 2001 Hull Leadership Fellow with the Southeastern Council of Foundations. She also serves on the board of the Atlanta Estate Planning Council.
"I have always enjoyed the ability to connect my work with helping others," said Snyder. "Whether it is through helping clients find fulfillment through their charitable giving or helping a family find peace of mind in their estate and financial plan, I am excited to know that I have made a positive and measurable difference in my clients' lives."
"With her deep knowledge of philanthropy and wealth management, I expect Elizabeth to be a valuable resource to our clients who are seeking guidance in these areas," said Jeff Peller, SignatureFD co-founder and CEO. "I'm excited to have her join our team."
In addition to her professional work, Snyder is a leader with a number of charitable and community organizations in the Atlanta area. She is on the board of the Frazer Center; a member of the Community Foundation for Greater Atlanta Planned Giving Advisory Board; a Children's Healthcare of Atlanta Legacy Advisor Council member; a committee member for the Woodruff Arts Center Annual Campaign; and a volunteer with the Holy Innocents' Episcopal School Capital and Annual Campaign. Snyder earned an MBA from Georgia State University and a B.A. from Emory University.
About SignatureFD
SignatureFD, LLC, is an innovative and comprehensive financial design firm with a simple mission: to empower each client to use their wealth to live a great life. Founded in 1997, SignatureFD offers a full suite of wealth management services designed to meet the needs of high-net-worth individuals and families. These include asset management, asset protection, tax planning, cash flow and debt management, wealth transfer planning and financial life planning. SignatureFD manages over $2 billion for 700 client families and has a client retention rate of 97% since opening its doors in 1997. For more information, visit the SignatureFD website at http://www.signaturefd.com.
Press Contact:
Jeff Peller, Co-Founder and CEO
600 Peachtree St. NE, Suite 2700
Atlanta, GA 30308
404-253-7600
jeff.peller(AT)signaturefd.com
###