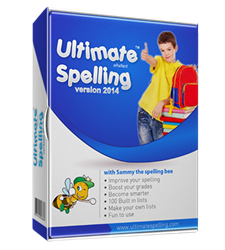 Homophones frustrate, anger, and disappoint millions of people every day, when they fall into the trap of confusing one homophone with another.
New York City, NY (PRWEB) November 18, 2014
eReflect, designer of spelling software Ultimate Spelling™, introduces befuddled native and non-native English speakers to the world of homophones: words that share the same pronunciation, although they have different meanings.
With most English teachers and language-lovers being the exception to the rule, in general the average person will often confuse words with similar sounds. "Its" and "It's" may seem identical, yet they have radically different meanings, eReflect notes. Homophones frustrate, anger, and disappoint millions of people every day, when they fall into the trap of confusing one homophone with another. However, if someone puts enough time and effort into learning proper English spelling, not only will they be able to say "I spell well," they will also learn to avoid these common pitfalls.
In a recent blog post the Ultimate Spelling™ editors explain that homophones are so prevalent in the English language because over the centuries the language has borrowed many words from most other European and Eastern countries. This leads to homophones such as "tee" and "tea," for instance.
eReflect understands that homophones are one of the aspects of language learning that are most difficult to master. The company encourages people, whether native English speakers or not, to practice their spelling. There are several online tools and software that teach spelling, including eReflect's own Ultimate Spelling™ program.
eReflect's editors tell their readers all about homophones. As they point out, homophones "are little bandits that wait for exhaustion to kick in to make their move and sneak into your writing. This means the best thing you can do is to equip yourself with the linguistic knowledge you need to avoid them, or at least spot them when they creep in."
More often than not, the reason for messing up homophones like "sole" with "soul" or "genes" with "jeans" is lack of focus or tiredness rather than lack of spelling knowledge. However, there are many cases where the reason for such mistakes is a person's poor spelling skills. To overcome this issue, eReflect encourages everyone to brush up their spelling, vocabulary, and grammar skills so that they know the difference between the most often confused homophones, such as "their," "there," and "they're." Homophones may seem daunting at first, and ESL learners in particular may feel they're impossible to get right, but with the right spelling practice, concludes eReflect, people can learn to use them correctly.
***********
For more information about how Ultimate Spelling software can improve spelling performance for you and your family, please visit the official website at http://www.ultimatespelling.com.
About Ultimate Spelling™
Ultimate Spelling provides a modern and easy to use spelling software that has been designed with one goal in mind – making children want to learn.
It is a fast and easy way to master even the most complicated spelling, without the need to write long lists or complete boring tests.
In fact, Ultimate Spelling provides more than just spelling help. It is a complete educational resource that boosts all level of a child's literacy.
Containing a personal computer tutor, Ultimate Spelling is the most realistic step-by-step guide to flawless spelling ability.