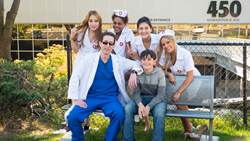 I really want to help kids make positive life choices through a medium where a lot of the influences have been negative - MC MD
Westchester, New York (PRWEB) November 19, 2014
Prominent New York ophthalmologist and cosmetic eyelid surgeon, James R. Gordon, MD has a secret identity. He's known in the music scene as "MC MD." Dr. Gordon aims to inspire a healthy approach to life through his upbeat rap music.
Dr. Gordon has rapped about health and social issues at Giants Stadium to support St. Jude Children's Research Hospital. He has fans from around the world contacting him for his catchy tunes that educate teens and kids on topics ranging from smoking to bullying. While his solo tracks have been getting attention for years, Dr. Gordon has recently completed a new album, set to launch this winter.
In addition to his unique blend of hip hop and medicine, Dr. Gordon is also recognized as one of New York's Top Cosmetic Doctors in the New York Times. He was the first doctor in the U.S. to pioneer the only portable erbium laser for skin resurfacing – the LightPod Era®.
American Health Front, a medical news television program designed to educate viewers about important advances in medical techniques and technologies, has invited Dr. Gordon to present the latest trends on cosmetic eyelid and facial procedures. Dr. Gordon will discuss the topic of blepharoplasty and address some of the most common eyelid and skin complaints among patients. This segment will air on CBS TV on Saturday, November 29 at 1:00pm EST to feature Dr. Gordon's interview, his patient's experience and also debut a preview of his "Don't Burn" rap music video.
About Dr. James R. Gordon
Dr. James R. Gordon is a renowned board-certified Oculoplastic Surgeon (eyelid and facial cosmetic / reconstructive surgery) with over 15 years of extensive experience including thousands of procedures from simple eyelid enhancement surgery to major reconstructive procedures. He is known as the "physician's physician", having operated on many doctors and their family members. Dr. Gordon has also treated well-known celebrities and business executives. Throughout his career, Dr. Gordon has earned many prestigious awards and distinctions, including the Most Compassionate Doctor, Patients' Choice Award and consistently being named to Castle Connolly Top Doctors, Westchester Magazine's Top Docs, U.S. News & World Report Top Doctors and Marquis Who's Who in America. Dr. Gordon is honored to be recognized as one of New York's Top Doctors in The New York Times.
For more information, please visit http://www.CosmeticEyelids.com
# # #
Media Contact
Esther G
914-826-5926
esther(at)cosmeticeyelids.com