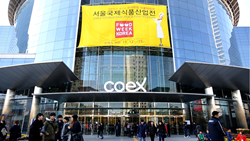 SEOUL, SOUTH KOREA (PRWEB) November 18, 2014
Food Week Korea 2014 featured numerous food themed sectors including an International Pavilion, Kitchen Fair, ASEAN Trade Fair, Food Tech Show, Bakery Fair, Premium Agricultural Products Pavilion, Salt Fair, Korea Processed Rice Food Fair, Fine Food Fair, Seoul Cooking Show, and GKBF (Great Korean Beer Festival), spread over a total of 36,000sqm of exhibition space.
Unprecedented Global Participation - As the most international food trade show in Seoul, Food Week Korea welcomed 162 overseas exhibitors from 28 countries including 16 national pavilions including Austria Advantage, Turkish Confectionery Promotion Council, India Cashew Council, UPEMI (Unions of Producers of European Meat Industry), and more from 15 countries. Out of total number of exhibitors, about 22% of the exhibitors were from overseas countries.
Diverse Co-located Shows - The 2014 edition especially had diverse co-located shows compared to the previous editions. ASEAN Trade Fair showcased various exotic Asian food & beverage during the show from 10 ASEAN countries, while kitchen utensils and food related machineries were all together showcased at the Kitchen Fair. Following the 2013 edition, SIBA (Seoul International Bakery Fair), Seoul Cooking Show, and Great Korean Beer Festival welcomed domestic and overseas visitors to enjoy culinary events via onsite cooking demonstrations and tastings. Meanwhile, numbers of domestic shows such as Salt Fair and Korea Processed Rice Food Fair have been the exhibit platform for visitors to learn and experience Korean Food Industry.
VIP Gala Dinner - Food Week Korea 2014 hosted the VIP Gala Dinner for the first time during the show period, on November 13th of 2014. The invited guests including the Food Week Korea hosted buyers, delegations, major organizations of the industry, and the trade representatives from Embassies and Trade Promotion Agencies in Korea, had the chance to network with each other while enjoying performances. About 31 trade promotion organizations in Korea and 40 overseas VIP guests have participated and had networking opportunities.
Strengthened Business Platform via Upgraded Business Match Meeting Program - Food Week Korea 2014 once again provided the business platform for buyers and exhibitors. Qualified buyers who are carefully selected by the Food Week Korea Secretariat participated in the Coex-run exclusive business-match meetings with the exhibitors, while gaining a sponsored accommodation, airfare, city tour, networking dinner, and other countless benefits. Especially this year, two major overseas delegations have participated in our program: FMM (Federation of Malaysian Manufacturers) and PAGASA (Philippines Amalgamated Supermarkets Association), doubling the number of hosted buyers compared to the 2013 edition. In the 2014 overseas buyers' biz-matching program, 59 overseas hosted buyers had 465 meetings with the exhibitors of Food Week Korea.
Coex and Food Week Korea Secretariat aims to expand the show continuously. Be sure to join the Food Week Korea 2015 to meet potential global buyers, sellers, and visitors of the food industry with outstanding exhibit items again at November 18th to 21st of 2015.