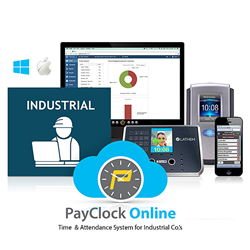 PayClock Online saves the company time so we can be more productive in all areas, and helps us improve in our lean culture.
Atlanta, GA (PRWEB) November 18, 2014
FLG Composites, an aviation repair company, has chosen Lathem's PayClock® Online cloud-based time and attendance system for its employees and subcontractors in Davie, Fla.
The company reports time savings, better time and attendance monitoring, and more efficient operations as the most significant benefits of PayClock Online.
FLG Composites is a small business focused on repairing small to medium-sized aviation parts. The company has employees working on the repairs in a warehouse, and several employees dedicated to operations on the office side. PayClock Online is used to track and automate time records and process payroll for the staff. The company also uses several subcontractors.
With PayClock Online, FLG Composites has accurate records of each subcontractor's worked hours. This enables the company to easily view the time each subcontractor spends on projects, and determine whether that time is being used efficiently. This helps Administrative Manager Claudia Lopez manage the entire workforce, regardless of their classification.
Lopez noted how much time she saves processing payroll, as well as how PayClock Online contributes to the company's goal of working lean. She uses PayClock Online with Lathem's TouchStation TS100, a biometric fingerprint time clock. Once workers clock in with the touch of a finger, time records are updated real-time via the cloud, and Lopez can see the information from any device with an Internet connection.
Lopez said, "I used to manually calculate payroll with punch cards and Excel sheets. PayClock Online saves the company time so we can be more productive in all areas, and helps us improve in our lean culture. We need to be efficient. Our repairs have to have a fast turnaround time, and PayClock Online tells us exactly how much time our employees are spending in the shop or on other duties."
She added, "I used to spend two to three hours every time I processed payroll. It was unbelievable. Now it's so easy. I issue a check and that's it. It has saved a lot of time."
Lopez takes advantage of PayClock Online's mobile functionality as well, which enables workers to clock in and out using smartphones and tablets. She has workers who have to make deliveries, picking up and dropping off parts. When those employees clock in and out on a phone or tablet, Lopez sees those records immediately.
She has a better understanding of what her team is working on and the amount of time it takes to complete various tasks. PayClock Online gives Lopez specific time frames, and she can see how employees are allocating their time. After all, she says, "A waste of time is a waste of money."
About PayClock Online
PayClock Online is a cloud-based solution that enables businesses to manage time and attendance anytime, anywhere with an Internet connection. This web-based employee timekeeping system allows managers to quickly process payroll on their own time, when it is most convenient for them. Mobile functionality lets managers track remote employees' hours or administer payroll from their own mobile devices. It's easy to set up employees to clock in and out from their computers, mobile devices, or even Lathem time clocks, and enable them to view their own time records and paid time off information on the web without supervisor assistance. PayClock Online easily integrates with popular payroll software systems like QuickBooks, Paychex, ADP and more.
About Lathem
Headquartered in Atlanta, Georgia, Lathem is the leading provider of durable and affordable timekeeping products for business. Founded in 1919, Lathem remains a family-owned and operated US manufacturer. More than 1 million organizations worldwide use a Lathem solution every day to help manage their business, including Lathem's PayClock Online cloud-based time and attendance systems, wall clocks, and biometric and mechanical time clocks.
In celebration of their 95th anniversary, Lathem continues its year-long sales event that makes it easier for small businesses to upgrade to the latest technology in employee time and attendance management to improve productivity and streamline the payroll process.