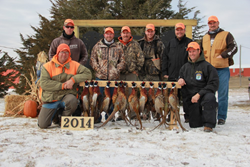 I had an absolute blast. The week was a huge success
Gregory, South Dakota (PRWEB) November 18, 2014
Storms summed up the experience as "great people, great food, great hunting, great experience." He added, "It was crazy being able to meet all these Elite anglers I look up to—a dream come true."
Storms was not only able to hunt with these pro anglers, but also able to learn about the techniques that have brought these champions success on the tournament trail. As an amateur angler with ambitions of going professional, Storms says that he "learned a lot of secrets and techniques I would normally overlook."
For fans who might never get the chance to spend so much time in person with these Elite pros, they can get the next best thing by learning the secrets of the pros through the education series Exposed. The series, which enters into its fourth season early in 2015, goes behind the scenes with Elite pros as they navigate competition waters on practice days leading up to Elite tournament events. Past seasons of Exposed can be found in the video vault at http://www.ProPatterns.com or on DVD at the ProPatterns Exposed Store including the newly released Season 3 DVD collection which includes all four guest pros from this year's hunt.
As the winner of the Fantasy Fishing Grand Prize, Eric Storms recommends that anybody interested in the sport of bass fishing visit http://www.ProPatterns.com and see all that it has to offer.
Hot off the Elite trail and on his way to the 2015 Bassmaster Classic in Greenville, South Carolina, pro angler Mike McClelland joined the rest of the Elite crew this year and experienced his first pheasant hunt. "I've always wanted to get out and hunt pheasant," McClelland said, "and I had an absolute blast. The week was a huge success."
Though McClelland's focus has been preparing for the Classic, he appreciated being able to stop and get out and experience something new. Though it was unseasonably cold this time of year in South Dakota, McClelland said, "Geared up with the fine outerwear Cabelas has to offer, we stayed warm and had a good time." McClelland added that "on the water we do what we do, but watching the guides work their dogs and flush the game was more exciting than I ever thought it could be."
Though this was his first time pheasant hunting, McClelland said he was able to bag four or five pheasants over the three day trip. Though McClelland joined the hunting expedition as one of the celebrity guests, he echoes the sentiments of Eric Storms: "I would recommend fans take the Fantasy Fishing challenge on http://www.ProPatterns.com," McClelland said, "because if they win that Grand Prize Pheasant Hunting Expedition, they will definitely have a good time."
To learn more about ProPatterns Fantasy Fishing and the Exposed video series, please visit http://www.ProPatterns.com.
More About ProPatterns, Inc. and Exposed:
ProPatterns, Inc. is a leader of angling education by sharing professional fishing tips, industry information and member services online. In addition, ProPatterns offers prize filled competitions, sharing of information among peers, and connections to industry professionals and media through means available nowhere else.
Information is gathered from various sources and disseminated with members in a variety of ways. The Exposed video series, for example, gains all of its integrity from an alignment with the biggest names in the bass fishing industry including professionals who fish with BASS, FLW, and PAA. Cooperation from the anglers and their willingness to share is the catalyst for the growth of this series.