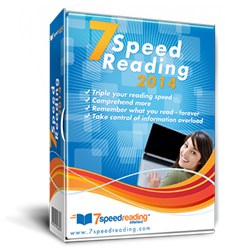 Reading gives people the privilege of learning from others' lessons without having to experience them.
New York City, NY (PRWEB) November 19, 2014
7 Speed Reading™ developer eReflect uses their latest blog post to remind people that reading is the one activity that anyone can enjoy in their spare time. eReflect is a vocal ambassador of reading and speed reading. The company encourages people of all ages to take up reading as a hobby and reap its many cognitive, social, and career-related benefits.
The speed reading program developer insists that reading (and speed reading more specifically) is an activity that is packed with benefits. However, as eReflect points out, most people overlook or underuse this beneficial activity in today's age of smartphones and social media.
Speed reading lets people learn faster and more efficiently than a conventional reading pace allows. Apart from saving hundreds of reading hours per year, those who speed read non-fiction get to enjoy a plethora of other benefits. Besides being more knowledgeable professionals and ardent connoisseurs of their subject matters and passions, they also get to improve their language mastery by learning new words, better language usage, and new concepts and expressions they can use in their oral and written communication.
Speed reading also helps people stay ahead of advances, new developments, and emerging trends, eReflect notes. While it's easy to use spare time to hang out with friends, play games, or socialize on social networks, it's generally more profitable to use that time to learn to speed read. Once this skill is mastered, it's easy to get up to date with the latest in science, technology, and health advancements.
eReflect also emphasizes that devoting spare time to reading can serve as the springboard for self-discovery. When reading is used as a means of self-exploration, it helps people find answers to pressing questions. Reading helps people find solutions to the persistent issues they might be facing in their personal and professional lives.
Reading books inspires people to get into self-reflection and self-education, eReflect reports.
Reading about another person's struggles and woes provides a new perspective. Reading gives people the privilege of learning from others' lessons without having to experience them. As eReflect's editors remark, "Books are miniature life lessons you can learn from without going through the awkward and often painful life situations they describe in your own daily life."
************
For more information about the benefits of using 7 Speed Reading, please visit the official website at http://www.7speedreading.com.
About 7 Speed Reading™
7 Speed Reading is the only modern speed reading software that uses the latest technology to produce superior results.
The software provides its users with a new way to master speed reading that guarantees three times the reading speed along with improved memory and comprehension.
The software is poised as the most comprehensive speed reading system anywhere. It contains seven learning strategies, fifteen software activities, video training, advanced tracking capabilities and many more exciting features.