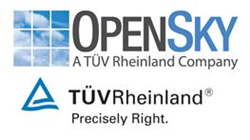 Tolland, CT (PRWEB) November 18, 2014
OpenSky Corporation announced today that Mark Coderre has joined OpenSky as a National Practice Director for Security Services. OpenSky, a TÜV Rheinland Company, is an IT consulting firm focused on Transformational Infrastructure, Security and Compliance. Coderre comes to OpenSky with 25 years of experience in information security, primarily in the healthcare and insurance industries.
Before joining OpenSky, Coderre was the Executive Director of Security Strategy and Risk Management at Aetna. There, Coderre made significant contributions to Aetna's development of leading IT security practices, including the organization's governance, risk and compliance program (GRC).
"Mark brings extensive experience in two industries with very complex information security challenges. He has first-hand knowledge of the most pressing risks, and current solutions that are on the minds of top security and compliance executives every day. Our clients will find value in Coderre's large enterprise expertise," said Roger Levasseur, President and CEO of OpenSky.
Under Coderre's leadership, Aetna was named a winner of the CSO40 Awards in 2013 for its international GRC program, and the top leader in Operational Risk Management during the 2014 EMC/RSA Archer summit, and earned an Identity Deployment of the Year award from the Liberty Alliance in 2008. Coderre himself was a finalist for the 2009 Information Security Executive of the Year program sponsored by Technology Executive Networks.
In addition to his formal job experience, Coderre has served on customer advisory boards for innovative security vendors like Stonesoft Corporation and Netegrity, and large organizations such as CA Technologies, Inc. and IBM/Tivoli. He was also voted to represent regulated industries for the Identity Ecosystem Steering Group created through Presidential Directive in 2011. Coderre has spoken on several industry conference panels and at the White House. HE holds a bachelor's degree in Computer Science from Central Connecticut State University and is certified in both security management (CISM) and risk management (CRISC).
About OpenSky Corporation
OpenSky Corporation is part of the TÜV Rheinland group. OpenSky provides information technology expertise to help corporations optimize IT platforms, protect information assets and accelerate the adoption of strategic technologies. It specializes in transformational IT infrastructure, security and compliance consulting. TÜV Rheinland is a $2B global leader in independent testing, inspection, certification, and consulting services.
For more information about OpenSky, please visit http://www.openskycorp.com.