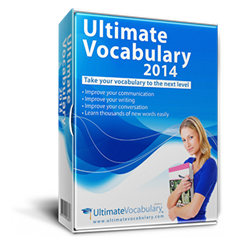 Appropriate word choice can help employees understand and find meaning in what they do.
New York City, NY (PRWEB) November 20, 2014
eReflect, designer of verbal advantage vocabulary software Ultimate Vocabulary™,shares tips with small and medium business managers on how to increase employee engagement at the office through language.
Being word smart is not just a catchphrase, notes eReflect. If a human resources manager or supervisor is word smart then they can truly engage their employees and tangibly improve their productivity and their commitment to a company's values and plans. As eReflect points out in a recent article on employee engagement, "[It] boosts their productivity, increases their output quality, and improves the overall corporate culture, turning it into one that's bubbly, robust, and innovation-focused."
Key phrases spoken to employees with regard to their contributions and affinity to their company's culture can work wonders.
eReflect asserts that "Thank you" and "What do you need from me?" and "What would you like to do here?" can instill a sense of duty, belonging, and confidence in employees to do even better.
Appropriate word choice can help employees understand and find meaning in what they do. It provides an opportunity to look at their projects from a fresh perspective, and opens their eyes to the potential for growth within their current position. Saying "please" and using other polite phrases is also key in getting through any self-imposed barriers employees build up. Courteous and respectful speech helps them to meaningfully engage with their colleagues and warmly embrace their projects, and take up new initiatives that drive the company's innovative, creative development ahead.
eReflect advises company directors and HR managers to regularly probe into the aspirations, goals, and motivations of their employees as a way of understanding their potential and adjusting their duties to better serve both employee and employer. Getting to know a person's passions and hobbies, for instance, can help a company plan for growth by maximizing talents they didn't even know their employees had. eReflect concludes that meaningful employee engagement can be achieved by strategic word choice, something that can be done by employees and supervisors alike.
***********
For more information on how you can benefit from Ultimate Vocabulary, please visit its official website, http://www.ultimatevocabulary.com.
About Ultimate Vocabulary™
Ultimate Vocabulary provides a proven and powerful platform, built to improve anyone's vocabulary.
The interactive self-improvement system provides more learning tools than any other program on the market, as well as more information on words.
The Ultimate Vocabulary software provides each and every user with a personal computer tutor. Providing a step-by-step guide to learning a powerful vocabulary, Ultimate Vocabulary is the learning tool everyone can benefit from.
Of course, the software is also backed by eReflect's iron-clad money back guarantee.