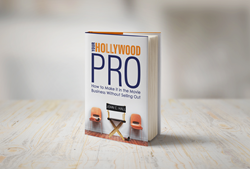 Your Hollywood Pro is brimming with practical advice on making it in Hollywood.
LOS ANGELES, CA (PRWEB) November 18, 2014
Los Angeles-based Your Hollywood Pro, which caters to the needs of emerging talent from both in front of and behind the camera, today revealed its newly re-developed and expanded website and announced the Nov. 18 release of its official book, "Your Hollywood Pro: How to Make it in the Movie Business Without Selling Out".
Founded in 2013, the comprehensive Your Hollywood Pro website serves developing entertainment professionals by connecting them to a diverse group of well-established seasoned executives and successful industry veterans via on-demand advice either in-person, online or over the phone. Due to the increasing popularity of its services nationwide, site runners decided to expand features to include both a podcast and blog.
"Why sit in a room full of people hoping to get your questions answered, when you can just ask a Hollywood Pro face-to-face? Meetings over lunch are one of the primary ways that things get done in Hollywood," says site co-founder John C. Hall. "But with our new re-launch we can connect more people with talent, filmmakers and executives."
The podcast, which airs five days a week and is hosted by Your Hollywood Pro co-founder Jordan Gregory, features a plethora of industry professionals from both stage and screen, including producers, directors, writers, distribution experts and a wide-range of industry insiders. The blog features pieces written by Gregory and a broad-spectrum of entertainment authorities and tastemakers and will cover an array of topics concerning the entertainment community.
"I used to search the Internet looking for information on the business side of the Hollywood craft. I could never find a definitive resource, so I created my own. Its been well received by the community. It's rapidly climbing the iTunes New & Noteworthy section. We've been in the top 10 podcasts for Film & TV, Business and Education." Says Jordan Gregory
Your Hollywood Pro is extremely pleased to formally announce the release of "Your Hollywood Pro: How to Make it in the Movie Business Without Selling Out", authored by co-founder and long-time industry executive John C. Hall. Available on Amazon and all major eBook retailers, the book is one part industry handbook and one part memoir. Hall details his rise from a starry-eyed, small-town boyhood to the epicenter of the entertainment industry, while imparting practical advice about how to break into and succeed in the business. Hall offers: "There are certainly habits and pursuits that cultivate industry success, but there is no one-size-fits-all, sure-fire approach to making it in the entertainment industry. You can make it in this business, but you have to stay persistent, true to yourself, and generous to others. My book is not for Hollywood dreamers-it's for Hollywood doers."