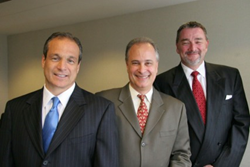 Her condition worsened and she became paralyzed below her neck.
Los Angeles, CA (PRWEB) November 20, 2014
Official court records from the Superior Court of the State of California for the County of San Bernardino Case No.: CIVDS 1409437 show that the family members of Phyllis Hopper age 78 have alleged in their lawsuit that the County of San Bernardino paramedics dropped Mrs. Hopper on September 7, 2013.
Court documents state that paramedics were summonsed on September 7, 2013 to the home of Mrs. Hopper. The lawsuit alleges that the paramedics dropped Mrs. Hopper striking her neck on the ground as they were attempting to move her from her bed onto a gurney. The court records further state that as a result of the fall, Mrs. Hopper suffered an epidural hematoma (blood clot) to her spinal cord. Mrs. Hopper was taken to Hi-Desert Hospital. Her condition worsened and she became paralyzed below her neck. She was airlifted to Desert Regional Medical Center in Palm Springs where she underwent a surgical decompression of her spinal cord at level C-2 in her neck. Mrs. Hopper did not recover from the decompression and never regained sensation below her neck. Mrs. Hopper became a quadrapeligic. Mrs. Hopper lost all motor function below her neck and she was placed on a mechanical ventilator. Court documents further indicate that Mrs. Hopper's wishes were to be removed from life support and as a result on September 14, 2013 Mrs. Hopper died.
The filed lawsuit alleges that Mrs. Hopper's family seeks to hold the County of San Bernardino accountable for her death. The lawsuit seeks damages in excess of $1,000,000.
Alex Galindo is a founding member of Curd, Galindo & Smith, LLP which is a full service law firm that represents both corporate and professional clients and those who have been seriously injured or have lost a family member due to an accident, defective product, police misconduct or negligence. The law firm has recovered millions of dollars for its thousands of clients since 1995 by winning complex and challenging business disputes, death and injury cases involving police misconduct, traffic collisions, work place injuries and defective products, including defective automobiles, against some of the world's largest companies and governmental agencies.
Mr. Galindo received his business degree from University of Southern California in 1982 and his law degree in 1985 from the University of Oklahoma. Mr. Galindo has been a lawyer and real estate broker for over 25 years. He has won numerous jury verdicts and settlements in the area of personal injury, products liability and civil rights/police misconduct cases. Mr. Galindo is a member of ABOTA which is an organization of attorneys representing both plaintiffs and defendants in civil cases. All of the attorneys who belong to ABOTA have earned great distinction at trial. Mr. Galindo is a member of Million Dollar Advocates Forum, Consumer Attorneys of California, Consumer Attorneys of Los Angeles, NPAP (National Police Accountability Project), National Lawyers Guild, National Association of Realtors and California Association of Realtors.