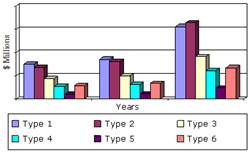 Global High-Energy Laser Market to Reach $11.2 Billion in 2019
(PRWEB) November 18, 2014
Wellesley, Mass., November 18, 2014 – BCC Research (http://www.bccresearch.com) reveals in its new report, High-Energy Lasers: Technologies and Global Markets, the market for high-energy lasers and related technologies is expected to grow to $11.2 billion by 2019, with a five-year compound annual growth rate (CAGR) of 14%. With applications in the medical and defense industries, the excimer laser segment is the fastest moving segment of the market surging with a significant 16% CAGR.
Lasers are used in numerous industries, with applications ranging across the defense, fusion energy, industrial, research, and medical sectors. Specifically, high-energy lasers (lasers with a higher degree of photon output and coherence) such as gas, solid-state and excimer types are used in core industries such as material processing and automotive. Presently, lasers are playing an increasingly important role in the development of many new processes, including guiding munitions and marking targets, missile defense systems, laser lightning displays, communication, and surgery and diagnosis functions.
The market is segmented by type, including gas lasers, chemical lasers, excimer lasers, fiber lasers, solid-state lasers, and others. Solid-state lasers dominate with 29.8% of overall market share and are anticipated to reach nearly $3.3 billion in 2019 and register a 15.3% CAGR.
Meanwhile, the gas lasers category is the second largest segment of the market with 26.3% share. The segment is predicted to grow to $3.1 billion by 2019, registering a CAGR of 12.7%.
However, as a result of increasing utilization within the medical area, the excimer laser category, which was valued at just $188.5 million in 2013, is anticipated to jump to $466.8 million by 2019. In addition to medical applications, this type of high-energy laser is garnering increasing interest within the defense industry for weapons-based applications.
"Factors that support growth in the high-energy lasers space include the unmatchable high range intensity due to the technology's low divergence angle," said BCC Research photonics analyst Gaurav Bhushan. "As a result, energy loss in the overall path covered is also minimal and attains high level of energy. At present, there is no replacement for lasers in terms of their crucial role in industry, particularly in defense and medical/healthcare. This fact will drive growth in the industry for the foreseeable future."
Lasers differ from other sources of light because they emit light coherently. Spatial coherence allows a laser to be focused to a tight spot, enabling applications like laser cutting and lithography. Spatial coherence also allows a laser beam to stay narrow over long distances.
High-Energy Lasers: Technologies and Global Markets provides an overview of the global market for high-energy lasers and related technologies and applications. It includes analyses of global market trends, with data from 2013, estimates for 2014, and projections of CAGRs through 2019.
Editors and reporters who wish to speak with the analyst should contact Steven Cumming at steven.cumming@bccresearch.com.
About BCC Research
BCC Research publishes market research reports that make organizations worldwide more profitable with intelligence that drives smart business decisions. These reports cover today's major industrial and technology sectors, including emerging markets. For more than 40 years, we have helped customers identify new market opportunities with accurate and reliable data and insight, including market sizing, forecasting, industry overviews, and identification of significant trends and key competitors. We partner with analysts who are experts in specific areas of industry and technology, providing unbiased measurements and assessments of global markets. Our clients include the top companies in industries around the world as well as universities, business schools, start-ups, consulting firms and investment companies. Visit our website at http://www.bccresearch.com. Contact us: (+1) 781-489-7301 (U.S. Eastern Time), or E-mail information@bccresearch.com.
Data and analysis extracted from this press release must be accompanied by a statement identifying BCC Research LLC, 49-2 Walnut Park, Wellesley, MA 02481, Telephone: (+1) 781-489-7301; Email: editor@bccresearch.com as the source and publisher. Thank you.