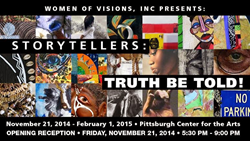 Pittsburgh, PA (PRWEB) November 18, 2014
Liberian-American mixed media artist Nora Musu has been selected to participate in Women of Visions' "Storytellers: Truth Be Told!" art exhibit at the Pittsburgh Center For The Arts, running November 21, 2014 to February 1, 2015.
Hosted in conjunction with presentations from the Craftsman and Fiberarts guilds of Pittsburgh, "Storytellers" celebrates and expands upon the West African tradition of griots passing on historical knowledge from village to village and griot to griot. More than 20 women artists from the African diaspora will present their "storytelling" works, passing along their own historical and experiential truths through unique and modern visualizations.
Musu's own cultural influences are evident in her eclectic use of mixed media, movement, texture and large landscapes to create pieces that are reminiscent of ancient African stone and wooden sculpture. The exhibit will feature her "Mah Rhythms" piece. The seven-foot wide, four-panel installation features her signature three-dimensional sculptural relief effect created with an innovative blend of acrylic polymers and iron and copper particles enhanced by a process of rusting and patina.
"'Mah Rhythms' is a celebration of the initiation of young girls from the Sande bush of the Mah ethnic group of Liberia," explained Musu, whose art often explores the feminine form and power. "This is the only ethnic group on the western coast of Africa with a secret society run exclusively by women. As a feminist, I feel a personal connection with these women, or Zoes, who control and perform the ceremony of initiation."
Presented by Women of Visions, Inc., the exhibit is juried by Samuel Black, president of the Association of African American Museums and Director of African-American Programs, Senator John Heinz History Center, and internationally acclaimed artist and educator, Ann Tanksley.
The "Storytellers: Truth be Told!" art exhibit runs November 21 through February 1, 2015 at the Pittsburgh Center for the Arts, located at 6300 Fifth Avenue, Pittsburgh, PA. The opening reception takes place November 21 from 5:30 to 9:00pm.
For more information about Storytellers and additional exhibit programming, visit Women of Visions at wovpgh.blogspot.com or the Pittsburgh Center For The Arts at pca.pittsburgharts.org/guild-shows.
For more information on Nora Musu, visit http://www.noramusu.com.
# # #
About Nora Musu
Nora Musu is a Liberian-American artist whose art and life experience epitomize an organic multiculturalism that transcends boundaries. She primarily uses an innovative blend of acrylic polymers, and iron and copper particles enhanced by a process of rusting and patina, to create a three-dimensional sculptural relief effect in her work. Her pieces have been exhibited internationally, including the DuSable Museum (IL), the Museum of Science and Industry (IL) and the United Nations. Musu currently resides in Columbus, OH. She also holds a BS in Business Administration from Franklin University.
Women Of Visions, Inc.
Co-founded in 1981 by Emma Slaughter and the late Juanita Miller, Women of Visions' mission is to promote the art of African American women through exhibition and education. To that end, the organization mounts collaborative shows with other art groups and individual artists, and builds relationships in the arts and lay community both in and outside of Pittsburgh. The members of WOV represent a diverse range of lifestyles, and artistic expressions; thus a rich and varied expression of personal, social and political experiences is voiced. Today, Women of Visions, Inc. continues to nurture and support professional and emerging women artists of color, and to bring to the general public the full richness and scope of our cultural heritage.