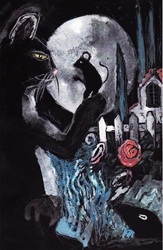 Los Angeles, USA (PRWEB) November 20, 2014
Lorraine Strieby's new, fanciful adventure reimagines ugly mole holes as beautiful onion-domed castles built by the brave Mayor Molly McMole and her little mole friends. So here comes Cat Sophia.
Cat Sophia finds this out the hard way. She meets her match trying to outsmart the feisty, attractive, and very crafty Molly, the Mayor of Mole Town. When the smell of a special treat leads Cat Sophia to the fast-thinking mole, she discovers a world with onion-domed castles everywhere and music that goes "boom." Cat Sophia then takes on the onerous mission of stopping her owners from getting rid of the mole holes, "ugly" piles of dirt that have destroyed their once-perfect green lawn.
Children ages 3+ and their adult pals will find this book entertaining, beautiful, and full of character-building lessons. Grown-ups will appreciate the book's humor, especially if they too are suffering from mole holes in their yard.
"Cat Sophia and Mayor Molly McMole" is written and illustrated by international artist Lorraine Strieby, who in 2014 showed her work at the Gustave Salon in the Eiffel Tower in Paris and at the Wunderkammer – The Secret Room of Art. She has also been featured at Museum Comples "Reale Albergo delle Povere" in Palermo, Sicily and the Worldwide Art Show in the Los Angeles Convention Center curated by Thomas and Despina Tunberg.
Strieby will soon travel to Forence to receive the "Sandro Bottichili Art Critic's Award" in the Dante Home Museum by Dr. Silvatore Russo. In December 2014, she will be interviewed by KC Armstrong on the web and on live radio, and in 2015 she will show her work at the Southern Museum of Fine Art in Las Vegas, Nevada.
Contact Lorraine Strieby via her website, http://www.lorrainestrieby.com. Her work can also be seen in the book "Contemporary Masters International, Vol. 8 and 9," curated by Despina Tunberg and published by World Wide Art Books, Inc.
Contact Despina Tunberg at despina(at)worldwideartia(dot)com and listen to her on the web at http://www.womensradionetwork1.com in December 2014.